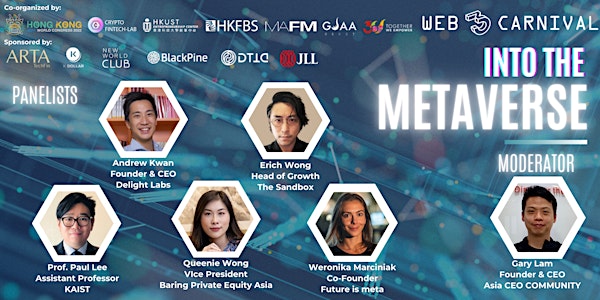 Into the Metaverse|Sandbox, Baring Private Equity Asia, KAIST, Delight Labs
Connection and opportunities of GameFi with Metaverse Commercial and social aspect of Metaverse Social-Fi's potential in redefining society
About this event
The panel features:
Gary Lam (ASIA CEO COMMUNITY, Founder & CEO) [moderator]:
Andrew Kwan (Delight Labs, Founder),
Erich Wong (The Sandbox, Head of Growth (HK)),
Prof. Paul Lee (KAIST, Assistant Professor | "All One Needs to Know about Metaverse", Author),
Queenie Wong (Baring Private Equity Asia, Vice President (Growth)),
Weronika Marciniak (Future is Meta, Co-founder)
Into the Metaverse?
What's GameFi, and what's Metaverse? How are they related?
Is Metaverse just a larger video game?
What's the current progress of Metaverse and how long will we wait to see its first huge adoption? What are the opportunities for game developers and enthusiasts?
What is the future we expect when the metaverse finally comes into our daily life? What are some potential concerns?
What is Social-Fi? How can it redefine our social life?
Zoom link
https://hkust.zoom.us/j/93673666724?pwd=UXhQcmxIekIwQTE4Z1JBMFRyQUIrQT09
Meeting ID: 936 7366 6724
Passcode: 475650
Sponsored by:
ARTA TechFin (https://www.artatechfin.com/)
New World Klub 11 (https://klub-11.com/)
BlackPine (https://bppe.com/)
DTTD (https://www.dttd.io/)
JLL (https://www.jll.com.hk/)
Join our community to learn about the event and the latest updates!
Website: web3-hk.xyz
LinkedIn: https://www.linkedin.com/company/hkust-web-3-0-labs/
Discord: https://discord.gg/PR6pgrfjMb (join now to chat!)
Twitter:@Web3_HKUST
Co-host:
JCI World Congress Hong Kong 2022 (https://www.jcihk.org/en/general.php?menuid=4&groupid=96&id=64)
HKUST Entrepreneurship Centre (https://ec.hkust.edu.hk/)
HKUST Crypto-FinTech Lab (http://cryptofintechlabhk.net/)
HKUST Web 3.0 Lab
HKUST DareDevil Lab
Hong Kong Federation of Business Students (HKFBS)
HKUST Graduate Students and Alumni Association (GSAA)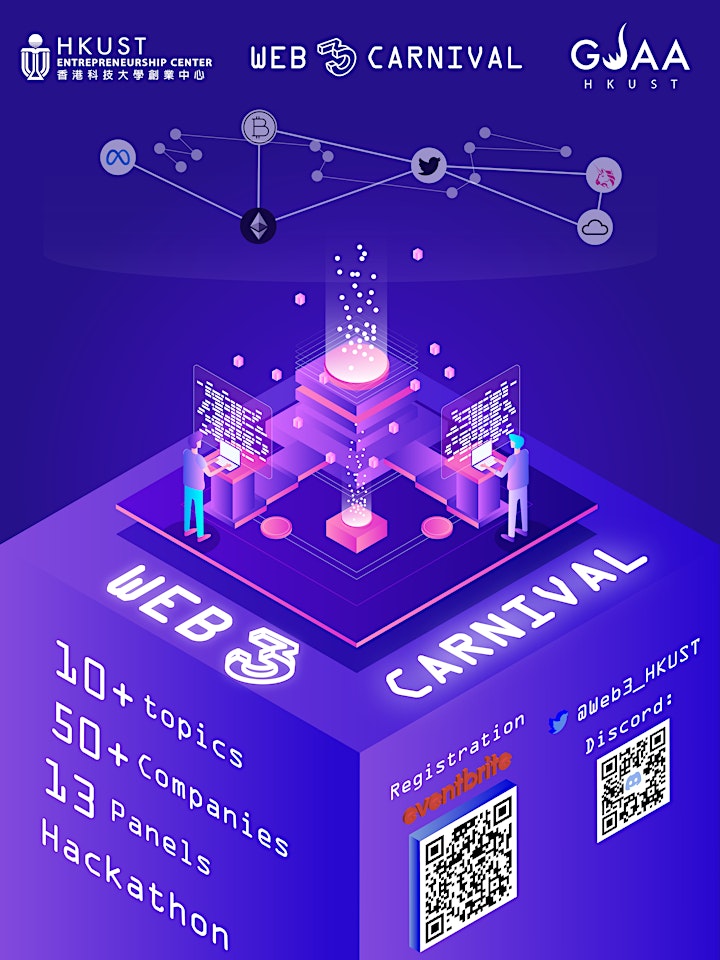 Carnival Rundown:
Week 1: Carnival kickoff & Web3 landscape
Week 2: How are corporations tapping into Web3?
Week 3: Opportunities lie in web3, metaverse & NFT
Week 4: What is NFT?
Week 5: Into the Metaverse
Week 6: Venture Capital in Web3
Week 6.5: Women in Web3
Week 7: Sustainability and Impact in Web3
Week 7.5: How to get a job in Web3?
Week 8: Cryptocurrencies, Tokens, Coins, and the Latest Global Trends
Week 8.5: Decentralization 101
Week 9: Risks & Opportunities in Web3
Week 10: The World in 2030 & Carnival Closing
Award:
Participating in more than 80% of the courses, you will receive an exclusive NFT!
NFT Previews: