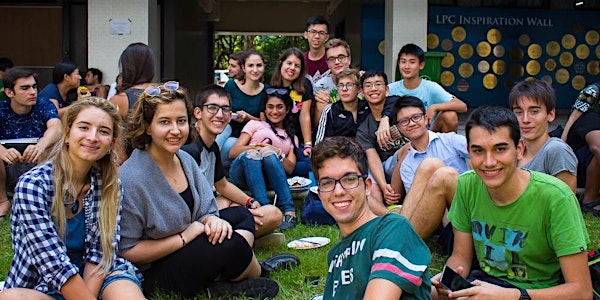 [Int'l School Students] LPC Student Sharing #A - Why UWC? + UWC Academics
Applications to UWCHK Scholarship Scheme for academic year 2022`~2024 has gone LIVE on 19 July 2021! Learn more about us and how to apply!
About this event
If you hope to become a Change Maker, look no further!
Applications to UWC through the UWC Scholarship Scheme of Hong Kong for academic year 2022~2024 has gone LIVE on 19 July 2021! (Click here to access application link)
Have you ever imagined and being excited at the prospect of studying and living with young people from around the world of over 80 nationalities?
Or interested in studying at boarding schools outside of Hong Kong, or even in some exotic countries like Armenia, Costa Rica, Bosnia and Herzegovina etc?
Are you looking to make a positive change in society? Are you interested to be part of the changemakers for peace and sustainable future?
Or learn an internationally recognized curriculum - International Baccalaureate Diploma Program and goes beyond just the IB Diploma?
If any of the above or you would simply like to explore about more United World Colleges, and would like to understand how our need-based scholarships make this opportunity possible irrespective of financial background, you are most welcomed to join our series of Online Info Sessions!
Details about This Info Session:
Vania Chow (LPC '22) - Originally from an International School located in Shatin District
Kai Brekker (LPC '22) - Previously from an International School located in Sai Kung District
Why Apply to UWC, Application Process, Overall Experience, etc.
UWC IB Program Overview, Transition to IB, Critical Thinking, etc.
Language: English (Panel Sharing - 40mins + Q&A - 20mins)
Overall details
UWCHK will be organizing a series of Online Info Sessions to replace our typical in-person Info Day held at the Li Po Chun United World College given the Covid-19 situation
All of our Online Info Sessions will be held on Zoom. Once you register, we will be contacting you privately to share our Zoom session link. You will need to download and install Zoom and ensure a high quality internet connection to participate.
If you have any questions, please contact the organiser via email at marketing@hk.uwc.org