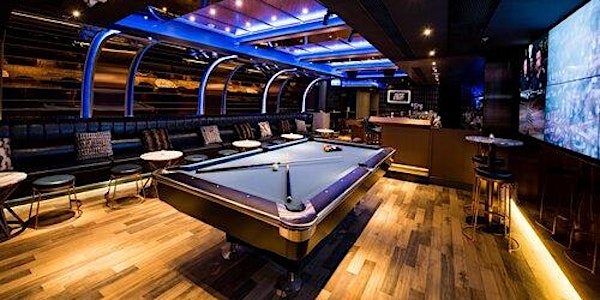 Intl. Friends After-work Gathering (Before Public Holiday)
April 4, Intl. Friends Gathering (Before Public Holiday) . Be part of our April's after-work gathering and get ready to party till late
By Hong Kong Intl. Friends
Date and time
Tuesday, April 4 · 6 - 11pm HKT
Location
Paper Street HK G/f, The Pemberton 22-26 Bonham Strand Sheung Wan,, HKI Hong Kong
About this event
April 4, Intl. Friends Gathering (Before Public Holiday), Venue : Paper Street HK. Paper Street is the ultimate Sports Bar/ Lounge concept located in the convenient Sheung Wan location at G/f, The Pemberton, 22-26 Bonham Strand. A cutting edge design environment with lots of entertainments, from your fav sports channels games to pool table and more games. Excellent drinks and an upscale urban atmosphere, come with us to Paper Street … discover this new hotspot in the hearth of Sheung Wan! < 5 mins from Sheung Wan MTR (exit A2) >.
April 4, Intl. Friends Gathering (Before Public Holiday) from 6pm to 11pm.
* Ching Ming Festival Public holiday on April 5th
- Before 7pm, free-entry buy drinks (no re-entry). Special for early bird.
- 7pm to 11pm, door HK$100 (Cash) per person includes 1 welcome standard drink, happy Hour 30% off for all standard drinks before 10pm!
[ SNACKS ] :
NO. 1, Edamame with Japanese sea salt < HK$48 >
NO. 2, Chicken cartilage gyoza with ponzu sauce < HK$68 >
NO. 3, Fried squid rings with tartar sauce < HK$78 >
NO. 4, French fries with truffle salt < HK$78 >
NO. 5, Sweet potato French fries < HK$78 >
NO. 6, Mozzarella cheese sticks with basil tomato sauce < HK$68 > NO. 7, Soy chicken wings < HK$78 >
NO. 8, Grilled Japanese pork sausage < HK$88 >
NO. 9, Wagyu cheese burger < HK$108 >
NO. 10, Pork chop burger < HK$88 >
[ Standard drink LIST ] :
WINE (House red wine, house white wine)
HOUSE POURS (MIXERS INCLUDED) Smirnoff red vodka, Gordon's Gin, Appleton Rum, Jose gold Tequila, Jack Daniel's bourbon, Famous grouse.
BEER ( Heineken )
NON ALCOHOLIC DRINKS Fater ( sparkling & still ) Fodas Apple Juice Cranberry Juice Orange Juice
_____________________________________________________________
Expats/HK local, professionals, white collar, coworkers, friends, friends of friends, college students...all are welcome to join!!!
All guest must be 18+ and provide valid identification card with recent picture, entire door policy will be under the Company's policy and the Company reserves the right to make the final decision for the guest entry