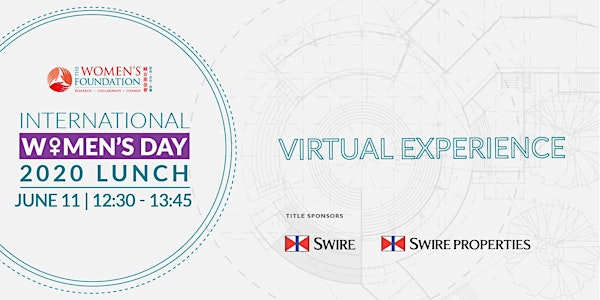 International Women's Day Lunch 2020 - Virtual Experience
Description
The Women's Foundation Hong Kong Presents
International Women's Day Lunch 2020 - Virtual Experience
Sponsored by Swire Group and Swire Properties.
International Women's Day may officially be coming to an end, but its spirit can continue all year.
We are delighted to invite you to join us in celebrating the achievements of women and girls in Hong Kong and reaffirming our mutual commitment to building a gender equal Hong Kong.
On June 11, we will be hosting our annual International Women's Day Lunch to celebrate the achievement of women and girls in Hong Kong. Due to ongoing government regulations on events, and to ensure the safety of our guests, our IWD Lunch will now be held in a virtual format.
Whilst the format of the event will be different, our mission remains the same: to build a gender equal Hong Kong.
We are looking forward to presenting you with an innovative and meaningful online event, bringing together our community of senior corporate executives, leaders of women's networks, academics, and diversity champions. This year's programme includes a compelling panel discussion titled "Designing Equality", featuring Alice Chow, Fellow and Director of East Asia Programme and Project Management & Advisory Services, Arup; Natasha Usher, Interior Architect, Founder and Design Principal of nude design limited; and Marisa Yiu, Co-Founder/Executive Director of DESIGN TRUST and Architect/Founding Partner of ESKYIU; moderated by Eric Schuldenfrei, Head of Architecture at the University of Hong Kong and Founding Partner of ESKYIU. We will also feature messages from our programme participants, and provide opportunities to engage and network virtually, all whilst helping to raise critical funds for TWF.
Please note that no fee is applicable for registration.
Tickets are limited. Please confirm your participation early to avoid disappointment.