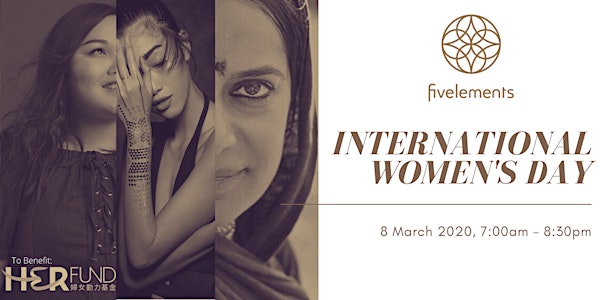 International Women's Day @Fivelements Habitat
International Women's Day at Fivelements Habitat celebrating Women Warriors in Wellness
When and where
Location
Fivelements Habitats Level 13A, Tower 1, Times square 1 Matheson Street Hong Kong Kong, HKI Hong Kong
About this event
Fivelements Habitat is celebrating International Women's Day with an irresistible line-up of Hong Kong's leading women sharing in wellness practices, conscious business, testimonials of life transformation, feminine empowerment, and earth advocacy. Get intimate with top Female Founders, Vegan Entrepreneurs, Sacred Artists, and Sustainability Experts as they share purpose for doing what they LOVE!
Part of the proceeds benefit HER Fund, whose mission strives to mobilize resources for women's empowerment and promotion of social changes and gender equality.
Single-day pass gets you "all-access" to attend multiple sessions (link to pre-book sessions available upon ticket purchase) 30min -120min sessions available throughout the day. Pre-order your Sakti Elixir plant-based set menu and Wellness Sanctuary treatments to enjoy a special discount.
Sessions as below:
8-9am/ TEA CEREMONY MEDITATION by Global Tea Hut
9-10:30am/ WEAVING THE WILD By Kembali
10- 11am/ YOGA By Lululemon Ambassadors Victor Chau & Rebecca Jean Wong
11:30-12: 45 pm / FEMALE FOUNDERS by HER Fund & Dream Impact
12-2pm/ SECRET POWER OF MODERN WOMEN By Corinne Konrad Calder
12:15-1:30pm/ LAUGHTER MEDICINE x POSITIVE RITUALS By Honey Pamnani
12:30 - 1:30pm/ TEA CEREMONY MEDITATION by Global Tea Hut
2:00-3:15pm/ PLANT POWERED WOMEN IN BIZ By Adeline Chan, Veggie Fest / Martina Bin, EatFresh / Payal Shah, Founder of LDezen OlyAndPie Startup Investor: The APE Fund / Carrie Chan, Founder Avant Meat
2:00 - 3:30pm/ HEALING POWER OF CRYSTALS By Cristina Rodenbeck
2:30 - 4:00pm/ TITANIUM GONG BATH x MEDITATION By Liz McCaughey & Lulu Taylor
3:00 - 4:30pm/ PROFOUND PURPOSE By Karen See of Embrace Worldwide
4:15 - 5:15pm/ COMMUNITY KIRTAN By Katarina Bleinis & Bernice Tong
5:30 - 7:30pm/ FIVE RHYTHMS DANCE By Sudevi Sundari
..
為慶祝三八婦女節,Fivelements Habitat特意邀請多位健康業界的女強人,帶領一連串的健康工作坊,更會透過分享自己追求健康生活丶經營良心企業丶面對人生轉折點丶推進性別平等丶倡導愛護環境的經驗,實行以生命影響生命。強大女嘉賓陣容包括,傑出企業家及集團創辦人、修行藝術治療師、可持續發展及素食產業的有關專家等等。
是次活動部份收益將撥捐「婦女動力基金」,一個致力透過籌集資源以倡導女性增權,推動社會改變,促進性別平權的慈善團體。
凡購買單日通行證,即可於當日無限次參與有關工作坊。各個工作坊皆需提早預約,課堂每節由30至120分鐘不等。另外,通行證持有者在預訂 Sakti Elixir的素食套餐及惠顧我們的個人護理服務時,更可享有特別優惠。
課堂及活動如下:
8-9am/《茶禪》:活動由Global Tea Hut帶領。
9-10:30am/《野草編織》:活動由Kembali的創辦人Jasmine Nunns帶領。
10- 11am/ YOGA By Lululemon Ambassadors Victor Chau & Rebecca Jean Wong
11:30-12: 45 pm/《如何跟隨內心分享會》:由傑出女企業家帶領,讓你尋回生命熱情,並學習領袖風范。講者包括「婦女動力基金」的Danielle Studdard ;「夢創成真」的Dorothy Lam。
12-2pm/《現代女性的秘密力量》:講者為Corinne Konrad Calder。
12:15-1:30pm/《笑的療癒能量》:活動由Aspire2Aspire 的Honey Pamnani帶領。
12:30-1:30pm/《茶禪》:活動由Global Tea Hut帶領。
1-2:30pm/《地球之舞x靈魂之歌》:活動由Gretchell Yaneza 及 Siobhan Dumigan帶領。
2-3:30pm/《素食產業女強人分享會》:講者包括同時為L'Dezen丶OlyAndPie及初創基金The APE Fund創辦人的Payal Shah;VeggieWorld 的創辦人Adeline Chan ;Avant Meat的創辦人Carrie Chan。
2-3:30pm/《水晶的強大能量》:活動由Manipura Wellness Practice及Integrated Medicine Institute (IMI)的Cristina Rodenbeck帶領。
2:30-4pm/《冥想及頌缽療癒》:活動由Liz McCaughey 及 Lulu Matilda帶領。
3-4:30pm/《人生意義分享會》:活動由Embrace Worldwide的創辦人Karen See帶領。
4:15-5:15pm/《Kirtan For The People》:活動由Katharina Bleinis及Bernice Tong帶領。
5:30-7:30pm/《5種節奏》:活動由Sudevi Sundar帶領。