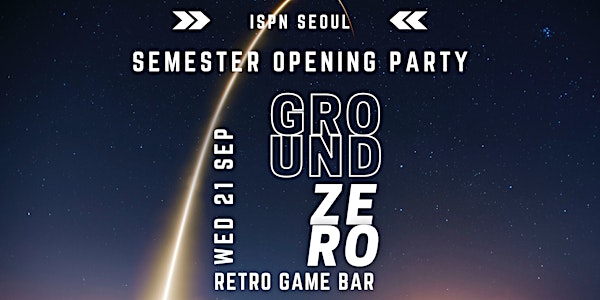 International Student Night | Semester Opening Party: Ground Zero
Kickstart your year with a blast, with the semester opening party in Seoul!
When and where
Location
Retro Game Bar Jandari-ro 7 Seogyo-dong 407-26 Mapo-gu, Seoul 121-210 Korea, Republic of
About this event
Be ready to start the year with a bang! 🔥
Join us and all others for Ground Zero in Retro Game Bar! THE semester opening party - Social Edition - in Seoul! 🇰🇷
It's a great way to meet and connect with local and international students from Yonsei University, SNU, SDU, and many more universities. There will be beer pong, and many many video games in Retro Game Bar! 🌍🎮
Expect an amazing evening in one of our favorite student bars, filled with all the people you will be studying together with during this semester in Seoul; along with amazing vibes, the best cocktails, and extra cold beers. 🍺 🍹
▬▬▬ Drink Deal ▬▬▬
We have an amazing drinks deal lined up for everyone. We just want everyone to have a good time and drink as much as they want. 🍺 🍻
WELCOME SHOT!
+
NOTORIOUS SHOT TRAYS WILL BE SERVED!
+
ALL-NIGHT SPECIAL DRINKS DEAL!
▬▬▬ Tickets ▬▬▬
💰 It's a FREE event!
✨ Just grab yourself a FREE ticket and bring your friends with you! ✨
▬▬▬ Other Info ▬▬▬
⏰ Time: 8 PM - Late
📅 Date: Wednesday 21th September
📍Venue: Retro Game Bar (Hongdae)
7, Jandari-ro, Mapo-gu 3F
👗 Dress Code: Party outfit!
💬 Reminder: The event is 18+ ; Please take a valid ID (Driver License, ID Card, or Passport), and vaccination record.
▬▬▬ About ISPN ▬▬▬
The International Student Party Network (ISPN) is present all over Asia. ISPN aims to connect international students and locals through social events and parties, as well as sharing the best activities, restaurants, attractions, and events in the city through our social platform.