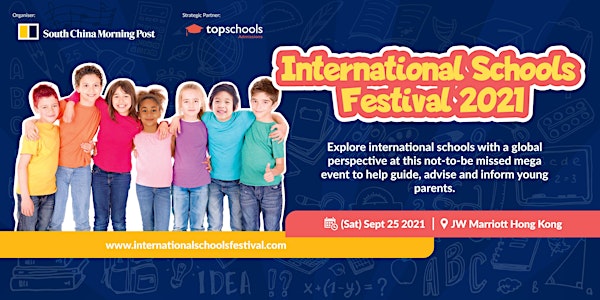 International Schools Festival (Sep 25, 2021)
International Schools Festival (Sep 25, 2021)
When and where
Location
JW Marriott Hong Kong 88 Queensway HK, HKI Hong Kong
About this event
Why You Should Join
The South China Morning Post's International Schools Festival provides a platform in connecting local and expat parents and their children with leading international and private schools and learning centres in Hong Kong.
School representatives from 40 highly sought-after international schools will be ready to give practical tips and advice on different curricula, admission tips and interviews and more. Parents will also learn how to nurture their children to become not only academically accomplished, but also become a strong and independent character.
30+ Exhibitors: Interact with the top international and private schools in Hong Kong to get a personal understanding of their teaching styles and cultures. Get in-depth answers to the questions specific to your child and family to make an informed decision for your child's education.
Gettign insights for your child's education: Hear experts discuss crucial topics for choosing the right curriculum, how to nurture children's mental health and wellness, how to prepare them with the crucial skills for the 21st century.
One-stop-solution: Explore different activities from educators and specialists offered throughout Hong Kong
Meet and speak with educators and specialists to learn about advice on different curricula, admission tips and interview
Visit our website for more information.
Ticket
Limited Access Pass (Free admission, Available)
Exhibition Hall Access from 11:00am - 4:00pm
Premium Access Pass (HK$100, Sold Out)
Exclusive early entry to International Schools Exhibition Floor: Dedicated time for limited Premium Access ticket holders to have personalised and in-depth discussions with all top-notch international school exhibitors
"Future of Education" conference where head of schools and education experts take on stage to discuss and debate education and schooling trends as we move from the next normal to "never normal"
A complimentary copy of Good Schools Guide - International Schools Directory 2022/23 (retail price HK$99)
Staycation Prize & Gifts
All attendees at the the International Schools Festival on Sep 25 at JW Marriott Hong Kong and stand a chance to:
Confirmed exhibitors include:
American School Hong Kong
Anfield School
Australian International School Hong Kong
Bartra Investments Advisor
Bloom KKCA Academy
Chinese Academy
Christian Alliance International School
Christian Alliance P.C. Lau Memorial International School
Dalton School
English Schools Foundation (ESF)
Genuis Development
German Swiss International School
Gordon Parenting
Guidepost Montessori International Kindergarden
Harrow International School Hong Kong
Hong Kong Golf & Tennis Association
Hong Kong Academy
International Montessori International Kindergartens
Invictus School Hong Kong
ISF Academy
Korean International School
Malvern College Hong Kong
Nord Anglia International School Hong Kong
Oxbridge School Hong Kong
Rosebud Primary School
Shrewsbury International School Hong Kong
Stamford American International School
Posties
The Harbour School
Think International School
Top Schools Hong Kong
Victoria Shanghai Academy
Whizpa
Wycombe Abbey Hong Kong
Yew Chung International School
See complete list of exhibitors HERE.
Get your ticket now!
We are closely monitoring the Covid-19 situation. To comply with the social distancing policies implemented by the Hong Kong Government and to ensure your health and safety at our event, safety measures will be put in place, including but not limited to – changing the date, venue and/or format of the event.