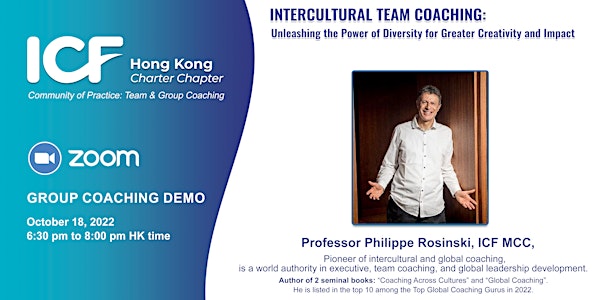 Intercultural Team Coaching: Unleashing the power of diversity
Join professor Philippe Rosinski, MCC on exploring the fascinating perspective of intercultural team coaching.
Refund Policy
Contact the organizer to request a refund.
About this event
We are delighted to welcome professor Philippe Rosinski, MCC, who will be sharing his unique perspective on intercultural team coaching. The event will be hosted by ICF HK chapter board member Murielle Gardret.
Systematically weaving a cultural perspective into team coaching is crucial because when teams tap into their intercultural potential, they become more creative and more effective, as well as more united and fulfilled. Yet, team coaches able to integrate interculturalism into their craft remain until now the exception rather than the norm.
Please note the pre-requisite: Attendees will be requested to fill in the COF assessment (Cultural Orientation Framework assessment). The link will be sent to you manually after you register.
Take aways:
In this webinar, Philippe Rosinski will build upon his pioneering work "Coaching Across Cultures" and "Global Coaching", will share innovative practices for coaching teams (all teams are intercultural!), and will illustrate these with concrete real-life international experiences.
Philippe will also discuss, select and aggregate Cultural Orientations Framework (COF) results with the audience.
This webinar will give you a sense of how coaching across cultures can be deployed in practice and how culture enriches the team coaching process.
You will gain a broader view of diversity. Philippe will refer to the traditional view of diversity (i.e., external/internal diversity) and will introduce the notion of explicit/implicit diversity. He will argue that all teams are culturally diverse, at least in some latent fashion, and that therefore team coaching needs to become intercultural team coaching to unleash the power of diversity, even with teams that appear rather homogeneous.
Attend live this event will grant you 1,5 CCE: 1 CC+0,5 RD CCE
About Philippe Rosinski
Philippe is a world authority in executive coaching, team coaching, and global leadership development. He is the first European to have been designated Master Certified Coach by the International Coach Federation. He is the author of two seminal books, Coaching Across Cultures and Global Coaching.