We are excited to present you a Panel discussion and Q&A session for the FinTech Week Hackathon 2019! Co-organized by WHub & HKECIC
About this Event

FinTech Week Hackathon (a satellite event of the Hong Kong FinTech Week 2019), organized by WHub & HKECIC & DBS will be held between 1st -3rd Nov, 2019. It's time to arm yourself with knowledge in different aspects to get yourself ready for 36 hours of inspiration, innovation and interaction!
Secure your spot for a workshop to get yourself ready! This workshop will be an introduction to the InsurTech Ecosystem & panel discussion with renowned industry experts!
Insurtech is a broad category of constantly changing technologies used in the Insurance industry. Short for insurance technology, InsurTech is a subdivision of FinTech (financial technology).
InsurTech is revolutionizing and changing the way Insurers do business. Until recently, these changes were largely invisible to policyholders. Insurers were utilizing new technologies mostly "behind the scenes," to execute functions that customers couldn't see. Now thanks to AI, Machine learning, Smart contracts, IoT, and even Drones, Insurance & Technology companies have found new ways to accelerate.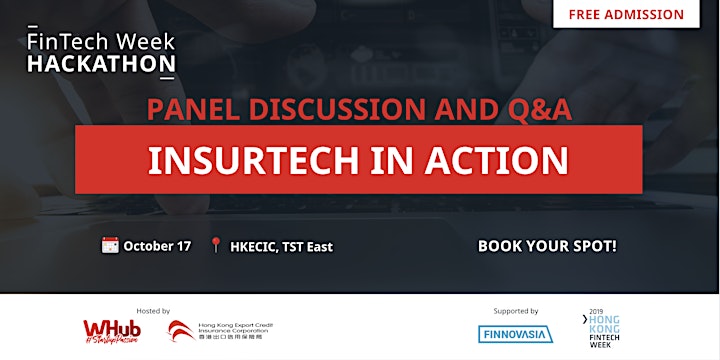 4 Panelists :
Mr Robert Lin President and CEO of the Seabury Trade Finance Exchange Limited
Mr Harry Wong Member of the Advisory Board of the Hong Kong Export Credit Insurance Corporation and Chairman of the Audit Committee.
Mr Simon Lam Executive Director ( General Business ) of the Insurance Authority
Mr Ralph Lai Commissioner of the Hong Kong Export Credit Insurance Corporation.
Moderated by :Mrs Karena Belin CEO & Co-Founder WHub, Co-Founder & COO / CFO AngelHub
Workshop n:1 || InsurTech in Action
Location : 2/F, Tower 1, South Seas Centre, 75 Mody Road Tsimshatsui East, Kowlon, HK
Date: 17 October at 6:30 - 8:30 p.m
Free
Join us for this workshop and get yourself FinTech hackathon ready!

There are 2 other workshops in preparation for FinTech Week Hackathon 2019.
And finally to concretize these workshops our :
* This workshops is open to the public, however, priority goes to FinTech hackathon attendees.

Do you have questions about FinTech, InsurTech and the FinTech Week Hackathon ?
Download our Fintech Ecosystem whitepaper, whub.io/fintech-toolbox , visit our website FinTech Week Hackathon or please contact the FinTech Hackathon team at hackathon@whub.io