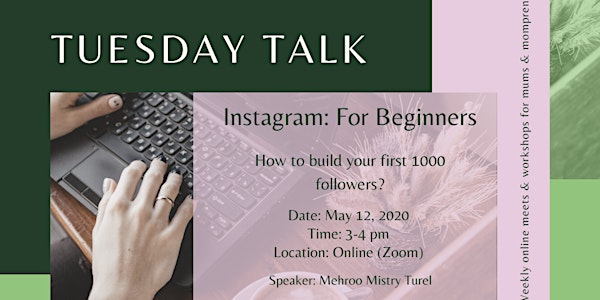 Instagram for Beginners
This webinar will talk about how to gain your first 1000 followers on Instagram
About this event
This webinar will cover -
1. Profile page - Design and setup
2. What is a post and a story? What's the difference?
3. Instagram groups and its importance
4. Instagram - Stats & facts
5. Instagram - Is it right for your business?
About the Speaker: Mehroo Turel
Born and brought up in the vibrant city of Mumbai, Mehroo lived in the UK for two years before moving to HK in 2011. A qualified MBA, she undertook high-performing roles in the corporate world in sales & marketing, before she decided to quit her job to become a full-time mother to her two adorable boys. A passionate hands-on mum, Mehroo started writing her journey in her blog "From Miss India To Motherhood" in 2012. After completing her TESOL she worked as a teacher in an International Kindergarten for a while before she started her own entrepreneurial venture, her clothing brand, SUMMER. Connecting with other 'mumpreneurs', she later launched her events and networking community platform Mums@PLAY which fortified many more connections within the community and community leaders. Founding, leading and managing two businesses in HK single-handedly, Mehroo has learnt the ropes through trial and error, building her "empire" brick by brick with her strong marketing and branding background, extending her skills to digital marketing and combined with her passion for networking. Leading an active lifestyle in her free time Mehroo loves working out or hiking up the hills around the island.
Mums@PLAY would like to support the community through these testing covid-19 times and is offering #TuesdayTalk sessions absolutely FREE.
You can follow us on Facebook https://www.facebook.com/mumsatplayevent/ or https://www.instagram.com/mumsatplayevent/