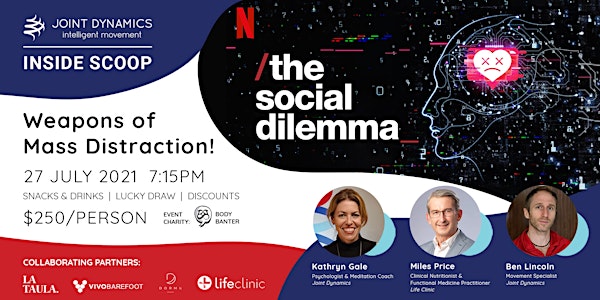 Inside Scoop - Weapons of Mass Distraction
Expert advice and information around how the phenomenon of Social Media is affecting our health and wellbeing.
When and where
Location
Joint Dynamics, 5F, Asia Standard Tower, 59-65 Queen's Road Central 5 Floor, Asia Standard Tower 59-65 Queen's Road Central Central, HKI Hong Kong
About this event
Joint Dynamics Inside Scoop is back!
This July, inspired by the thought provoking Netflix documentary Social Dilemma (https://youtu.be/uaaC57tcci0), we are kicking off with a much needed discussion on the challenges associated with the virtual world, the detrimental effects this can have on our own behavior and psychology and that of our younger generation coming off the back of increased tech usage for home schooling while multi-tasking with "weapons of mass distraction" such as gaming, and social media platforms.
Our expert speakers will share tools to create awareness and develop strategies to better navigate an uncensored, behavioral modifying, anxiety increasing amplification system (known as the internet) that is on one hand a powerful tool for infinite knowledge and connection, and on the other a system to manipulate consumers, polarize opinions, and develop addictions.
With such an important topic we have put together a panel including –
· Psychologist to discuss the psychology of the topic above
· A Clinical nutritionist/Functional medicine practitioner to share valuable information on nutrition and its role in a developing adolescent brain and the nutrients/foods that assist with focus and a stable mood.
· A movement expert and his experience and strategies on how play can change the brain and reconnect the body to health and better posture/movement outcomes
Tuesday evening July 27th, doors open at 7:15pm for a 7:30pm start
Price is $250/person and includes ample healthy snacks, drinks (physically healthy and also the emotionally healthy kind;)) and great discounts from all collaborating companies and one lucky draw prize giveaway
Numbers are limited to ensure adequate opportunity for safe social distancing
Our Joint Dynamics INSIDE SCOOP charity for this event is an amazing local NPO called BODY BANTER.
BODY BANTER is driven by a highly motivated (and motivating) group of Psychologists here in Hong Kong with the goal of empowering youth in conversations around body image and mental health
BODY BANTER - https://www.bodybanter.com/media
Speakers
Kathryn Gale, Psychologist and Meditation coach at Joint Dynamics – https://www.jointdynamics.com.hk/the-team/psychology/kathryn-gale
Miles Price, Clinical Nutritionist and Functional Medicine practitioner at Life Clinic - https://lifeclinic.com.hk/zh/miles-price-nutritionist/
Ben Lincoln, Movement Specialist at Joint Dynamics https://www.jointdynamics.com.hk/the-team/trainers/ben-lincoln
Hosted by Andrew Cox – Joint Dynamics Co-Founder and Director - https://www.jointdynamics.com.hk/the-team/trainers/andrew-cox
Collaborating Partners:
Vivo Barefoot – https://www.vivobarefoot.com/
La Taula – https://www.la-taula.com
Dormu – https://www.dormusleep.com
*Please understand in the current environment we have decided that this event is for vaccinated members of the community only. Moving forward we will constantly be reviewing our decisions, however for this event proof of vaccination (2 weeks post 2nd jab) must be given.
Joint dynamics INSIDE SCOOP is an ongoing community building initiative from the founders of Joint Dynamics to connect like-minded companies and consumers through meaningful, of the moment education, socialization, and great value.