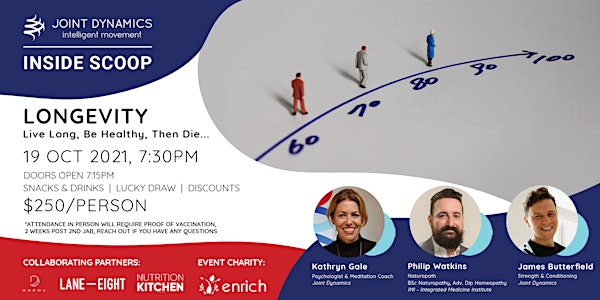 Inside Scoop - Longevity
INSIDE SCOOP - Longevity will feature three expert speakers unraveling and sharing the science and lifestyle hacks to aging.
When and where
Location
Joint Dynamics, 5F, Asia Standard Tower, 59-65 Queen's Road Central 5 Floor, Asia Standard Tower 59-65 Queen's Road Central Central, HKI Hong Kong
About this event
Live long, be healthy, then die…
The World Health Organization has now declared old age as a medical condition. Like all medical conditions, there are treatments and strategies available to us to reduce the severity and even reverse many aspects of aging.
Aging is the underlying cause of most diseases, with the exception of some genetic disorders & communicable diseases. All diseases derive from aging and the degradation of biological processes.
Death, although inevitable, does not have to come as soon as it usually does. Nor does it have to be preceded by years of suffering, frailty, and high medical bills.
The field of Longevity is now a multi-trillion dollar industry, attracting major corporations globally in the quest to extend our lives and maintain a healthier more vital existence in the process.
In our upcoming INSIDE SCOOP by Joint Dynamics, our three expert speakers unravel and share the science and lifestyle hacks to add quality and quantity to our lives.
A not to be missed event providing the latest in the sciences of longevity, great food and drinks, community, discounts from our collaborating partners, and a chance to connect to a charity doing meaningful work here in Hong Kong
Curator and host: Andrew Cox
Speakers
· Kathryn Gale – JD Psychologist
· Philip Watkins – IMI Naturopath
· James Butterfield – JD S & C expert and Physiotherpist
Collaborating Companies:
· Dormu – Weighted blankets and luxury bedding - https://dormusleep.com/
· Lane Eight shoes - https://laneeight.hk/
· Nutrition Kitchen - https://nutritionkitchenhk.com/ - because of Bryce @ Argyle
Pop Up shops on site on the night:
Dormu, Nutrition Kitchen and Enrich charity
Charity
Enrich with Soline El Hassani - www.enrichhk.org
Enrich is an award-winning Hong Kong charity providing financial and empowerment education programs to migrant domestic workers in Hong Kong. Their tailored workshops equip domestic workers with skills, knowledge and confidence to escape debt, plan for their future and achieve financial freedom.
Your ticket includes ample healthy snacks, drinks, great discounts from all collaborating companies, community, and more.
Numbers are limited to ensure adequate opportunity for safe social distancing
*Please understand in the current environment we have decided that this event is for vaccinated members of the community only. Moving forward we will review our decision, however, for this event proof of vaccination (2 weeks post 2nd jab) must be given.
Joint dynamics INSIDE SCOOP is an ongoing community-building initiative from the Founders of Joint Dynamics to connect like-minded companies and consumers through meaningful, of the moment education, socialization, and great value.