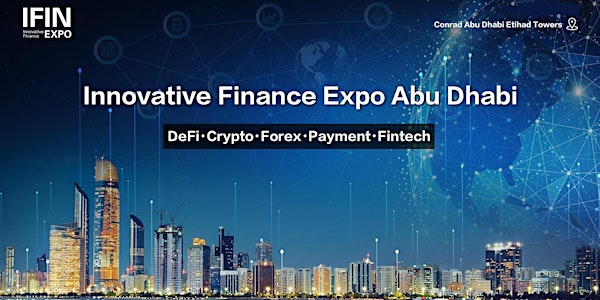 Innovative Finance Expo Abu Dhabi (IFINEXPO)
The world's largest innovative finance expo which involves forex, cypto, fintech, DeFi, NFTs, payments, GameFi...
When and where
Location
Conrad Abu Dhabi Etihad Towers Corniche Road Abu Dhabi, Abu Dhabi United Arab Emirates
About this event
1 day 8 hours

Mobile eTicket
As a mature financial media, FiFin (formly known as FigureFinance) has hosted many large and small expos. Innovative Finance Expo 2015-2021 was well received in Shanghai, Beijing, Hong Kong, Sydney, Bangkok and Kuala Lumpur. It will come to the beautiful and prosperous Abu Dhabi in April, 2023.
As the capital of the United Arab Emirates, Abu Dhabi has beautiful island scenery, rich oil reserves, free and prosperous market economy.
We welcome the world's most outstanding innovative financial institutions and enterprises to Abu Dhabi. The latest financial products and services would be shown through this expo and it would promote the better and faster development of innovative financial industry. Innovative financial industry covers cryptocurrencies, foreign exchange, fintech and other new financial forms. This expo will jointly build financial ecology, promote the future development of the industry, and realize the cooperation and mutual benefit among financial enterprises.
IFINEXPO will continue the features of the previous expos, With the theme of 'Connecting! Making Finance more efficient!', we aim to establish a professional and high-end brand image for innovative financial enterprises and expand their brand influence around the world. We are committed to the sharing of professional knowledge and resource in the financial field, so as to realize the zero distance contact between the beginner and master of financial industry, and generate sparks of wisdom and thought. In addition to cryptocurrency exchanges, forex brokers, financial technology companies such as electronic payment and cross-border settlement, The exhibitors in PE, VC, asset acquisition and overseas real estate will also be involved. It not only includes resources in all aspects of the financial industry, but also steps out of the industry. At the same time, there will be a lot of big names in the financial industry. With the participation and support of many companies and industry insiders, this summit will be an unmissable opportunity for resource sharing and communication.
Features of this expo:
1. The world's largest innovative finance expo with far-reaching influence.
More than 80 innovative financial enterprises participated in the expo, involving fintech companies such as cryptocurrency, forex, asset management, electronic payment system and fintech solutions.
2. Join hands with world-renowned entrepreneurs to discuss the cutting-edge development of innovative finance.
More than 30 well-known entrepreneurs and heads of institutions are invited as speakers to systematically elaborate on the latest development process and future direction of innovative finance industry.
3. High-end network resources.
The audience attending the summit mainly include the global well-known financial enterprises, big names in the cryptocurrency industry, head of forex enterprises, introducing brokers, outstanding leaders of internet financial industries, well-known experts and scholars, industry elite, media representatives, legal teams, high net worth investors, etc. making sure to improve the efficiency of resources docking and communication.
4. Cooperate with numerous media organizations to achieve global communication and influence.
The summit mainly cooperate with 30 well-known financial media organizations to conduct in-depth reports and extensive dissemination of this innovative finance expo. The exposure of up to 6 million times can maximize the influence of this expo in the financial field.
Some topics of the meeting
The challenges of today's digital asset world & how to ensure business continuity and minimal disruption as geopolitical turmoil begins?
Future proof solutions to protect our most valuable assets.
Challenges faced in the Digital Assets World post-pandemic & with the onset of geopolitical unrest
How to ensure business continuity and minimal disruption?
Future-proofing solutions in safeguarding our most valuable assets
Development history and future development direction of encryption technology
How NFT and Metaverse change our lives?
Why do we need cryptocurrency?
Crypto and NFT: risk or reward?
How to trade and invest in cryptocurrencies?
Cryptocurrency and stock trading
Cryptocurrency central exchange and decentralized Trading
Storing Crypto – Cold Wallets, Paper Wallets, Hot Wallets.
How to use technical indicators to predict the price of cryptocurrency?
Institutionalization and supervision process of encryption market
What are you waiting for? Quickly click on the following link to sign up!
【Contact Us】
Email:twinkle@ifinexpo.com; oscar@ifinexpo.com