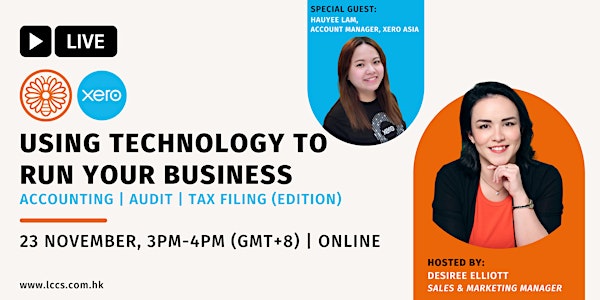 iNCUBEE x XERO | Using Technology To Run Your Business
iNCUBEE x XERO: Using Technology To Run Your Business
About this event
Partners with Xero
Accounting | Audit | Tax Filing (edition)
Key Learning Points:
Banking
How to open a bank account
Accounting, Auditing, Tax Filing & Exemption
How to deal with these?
Duration: 45 – 50 mins
Check out iNCUBEE social media: Facebook | Instagram | LinkedIn
| About our guest - Xero
Hauyee Lam, Account Manager, Xero Asia
Hauyee is an Account Manager at Xero Hong Kong. In her role, she advocates for digital transformation in accounting practices by advising them on the latest cloud technology and apps, helping them become an advisor of choice, also a cloud accountant & system implementer to small businesses across Asia.
Prior to joining Xero, Hauyee spent 6 years as a Project Manager in a Hong Kong-based CPA firm. Hauyee knows Xero and its connected apps inside out, with specialist knowledge in the eCommerce, retail, trading and F&B industries. Through her consulting and training work, Hauyee has helped numerous Hong Kong small businesses implement and integrate business cloud apps, helping them increase efficiency, competitiveness and success.