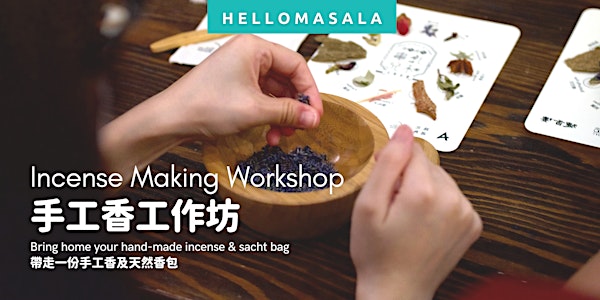 手工香工作坊 Incense Making Workshop
學習基本天然製香技巧,透過雙手體驗搓、揉、摙香來感受自然和抒發自我,摙出屬於自己的手工香。
When and where
Location
99COMMONS 杯渡路99號 Tuen Mun Hong Kong, NT Hong Kong
About this event
By signing up for this workshop, you will:
🌿學習製香技巧 Learn skills on making incense and sachet bag
🌿有機會成為摙香樓的一份子 get chance to become one of Lin Heung House's Masala Ambassadors to create culture-driven green products and deliver public engagement workshops
手工香工作坊 🌿 Incense Making
日期 Date:24/9/2022 (Saturday)
時間 Time :10:30 - 13:00 / 15:00 - 17:30
地點 Venue : Tuen Mun*
費用 Fee: Free
名額 Quota:15(未滿18歲需家長陪同 Bring a parent or guardian with you if you are below 18)
大家將可以帶走一盒手工香及天然香包。
Bring home your hand-made incense and sachet bag.
—————————
如報名人數超過名額上限,名額將會優先給予少數族裔人士/非華語人士。
If the number of applicant exceeded our quotas, we will give priority to ethnic minorities/ non-Chinese speakers
*我們將會在確認報名後提供詳細地址
Address will be given once your registration is confirmed.
_________________
By registering for our events on Eventbrite, you agree to our privacy policy (https://icehongkong.com/privacy), and that your personal information will go to our newsletter system, Mailerlite, from which you will receive our newsletters from now on. Should you wish to have your information removed from Mailerlite, please make a direct request to ice@icehongkong.com.
_________________
𝗠𝗮𝘀𝗮𝗹𝗮 𝗔𝗺𝗯𝗮𝘀𝘀𝗮𝗱𝗼𝗿𝘀 | Hello Masala 🍃 Farm Experience Project
The program targets to offer people of diversity soft and hard-skill training and job opportunities. It also helps developing their competencies and resilience in facing life and transitioning in their future careers.
About Lin Heung House:
Lin Heung House is a place for one to experience the scent making process with their own hands. We hope to use scent as a way to connect with the community. To encourage the public to utilise their hands to feel nature, as well as discover oneself by having fun creating scent products.
Organisation Introduction:
We are Inter Cultural Education (ICE), a social enterprise aiming to educate people to appreciate and be able to accept the cultural diversity of the world. ICE has helped more than 30,000 people in Hong Kong to connect and understand the world better through cross-cultural dialogues.
In the past 10 years, ICE has worked with people from more than 85 countries from all walks of life to promote the solidarity of a local community with the international community. Due to the situation under COVID-19, we are offering a special online programme called Explorers' Month, to bring the world to the public without leaving the city through a series of events. Follow our social media to learn more about world cultures: