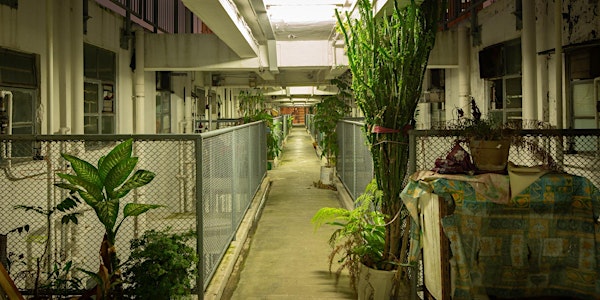 Multiple Dates
In Search of Traces of Shau Kei Wan Past | 地區攝影行:尋找筲箕灣舊日痕跡
Sales Have Ended
Ticket sales have ended
Registration is full for this event. Be sure to check out our other events. If you have any enquiry please reach us at hello@hkipf.org.hk. Thank you! 本活動已經滿座,敬請留意我們其他節目。如有需要,請電郵hello@hkipf.org.hk聯絡我們。謝謝!
Sales Have Ended
Ticket sales have ended
Registration is full for this event. Be sure to check out our other events. If you have any enquiry please reach us at hello@hkipf.org.hk. Thank you! 本活動已經滿座,敬請留意我們其他節目。如有需要,請電郵hello@hkipf.org.hk聯絡我們。謝謝!
In Search of Traces of Shau Kei Wan Past with Pak Chai 地區攝影行:與柏齊尋找筲箕灣舊日痕跡
About this event
This is about Shau Kei Wan beyond its Main Street East, with a prison-like warehouse, a shipless ship repair yard, Ming Wah Dai Ha with its exterior design going against the typical public housing architecture, the frozen-in-1960s A Kung Ngam industrial area, and remnants of a Hakka-run quarry that flourished 'when the port was opened' (a euphemism for the start of British rule)… Other than fishball noodles and the local Tin Hau Temple, you will experience a unique side of Shau Kei Wan.
Date: 13.11.2021, 20.11.2021
Time:
13.11 — 10:00am - 12:30pm (Cantonese);
20.11 — 11:00am - 1:30pm (Mandarin);
20.11 — 3:00pm - 5:30pm (English)
Assembly Point: Shau Kei Wan MTR Station Exit B1 (ground level)
Admission: $100 deposit (will be refunded only on attendance). The admin fee from eventbrite will be paid by the participants.
Points to Note:
(1) The photowalk is divided into three sessions conducted in Cantonese, Mandarin and English respectivel. Please register your session to your preferred language correspondingly.
(2) Please bring a camera of any form and water. Wear comfortable clothing and pack light. Prepare your own sunscreen, mosquito repellent and umbrella if needed.
(3) Due to gathering restrictions against groups of more than 4 persons in public, participants will be split into groups of 4 for the day. HKIPF will provide headsets to facilitate your experience. Please follow the instructions of the staff and abide by health and safety measures for public venues throughout the event.
(4) Due to privacy reasons, photo-taking of some spots during the walk is not advised.
(5) Please arrive at the assembly point around 15 minutes ahead of time for registration and health declaration.
(6) We are going to visit one of the HKIPF Satellite Exhibitions "Katharsis: The Body Forgets, The Body Remembers" by Lee Wing Ki & Simo Tse during the photo walk. The exhibition contains nudity and can only be viewed by visitors aged 18 or above.
這是有關東大街背後的筲箕灣:那裏有監獄一樣的倉庫、不見船的修船廠、跟政府公屋設計反其道而行之明華大廈、像凍結在六十年代的阿公岩工廠區、開埠時期曾極盛一時的客家人打石場痕跡......。除了魚蛋粉和天后廟,細心漫步,筲箕灣還有其獨特一面。
日期:13.11.2021、20.11.2021
時間:
13.11 — 10:00am - 12:30pm (粵語);
20.11 — 11:00am - 1:30pm (華語)
20.11 — 3:00pm - 5:30pm (英語)
集合地點:筲箕灣港鐵站B1出口(地面)
費用:$100 留位費(僅限在出席時退還,Eventbrite手續費需由參加者負擔)
注意事項:
(1)本活動將會分為三個部分,分別以粵語、華語、英語進行,請根據你的語言偏好登記參與相應環節。
(2)請攜帶任何形式的相機、水,穿著輕便衣物方便活動。如有需要,請自行帶備雨傘、防曬、水或防蚊用品。
(3)基於四人限聚令,參加者須以四人一組進行活動,我們將提供耳機讓講解同步進行。請跟從職員指示。
(4)是次漫步活動中,部分地方因個人私隱關係不便拍攝。
(5) 請提早約十五分鐘到達集合地點,以便進行健康申報。
(6) 在是次攝影行,我們會參觀香港國際攝影節其中一個衛星展覽,影像創作者李泳麒、謝達輝的「癒快:身體會忘記,身體會記得」。由於展覽含裸露成分,觀眾須年滿18歲或以上才能觀看。敬請留意。
About Facilitator
Pak Chai
Photographer-activist Pak Chai grew up around Quarry Bay, Tai Koo, and Sai Wan Ho. When he was young, all of these places past North Point were called "Shau Kei Wan". Only as an adult did he become familiar with Main Street East.
導師簡介
柏齊
攝影師柏齊在鰂魚涌、太古、西灣河一帶長大。小時候,這些地方都叫筲箕灣——過了北角就是筲箕灣。東大街是長大後才熟悉的。
Special Measures
(1) All participants must wear a self-provided face mask at all times.
(2) All participants must fill in a health declaration form upon arrival.
(3) Any person who fails to cooperate as requested, or displays fever (forehead temperature above 37.5C), fatigue, cough, diarrhea, vomiting or other flu-like symptoms will be refused to join the event .
(4) All persons must abide by the "Prevention and Control of Disease (Prohibition on Group Gathering) Regulation" (Regulation) gazetted by the Government, including but not limited to the extension of the "congregation restriction"which prohibits groups of more than 4 persons to gather in public, with effective from 24 February 2021.
防疫措施
(1) 活動進行期間必須全程配戴口罩
(2) 進行活動前填寫健康申報表
(3) 需量度體溫,發燒者不能參與活動
(4) 所有人員盡量分開,保持社交距離,四人限聚,如有違法,須自行負上法律責任
Support HKIPF
Support freedom of expression and help facilitate the growth of the arts by making a donation to the Hong Kong International Photo Festival. Your contribution will go towards our operation, future programmes and keeping our events accessible.
The Festival was launched in 2010. In each edition, the Festival focuses on a different theme, introducing noteworthy photographers, trends, and movements, discussing manifold issues and perspectives. Through a wide range of public programmes, the Festival bridges Hong Kong and international visual practitioners, creating conversations between people and place, past and present, and oneself and the world.
The Festival is organised by the Hong Kong Photographic Culture Association, which is a tax-exempt charity under section 88 of the Inland Revenue Ordinance. Donations above HKD 100 are tax deductible. If you require a receipt for tax deduction, please make a note when you register, and confirm with our staff at the event. If you have any questions, please feel free to contact info@hkipf.org.hk.
With your support, we hope to make ever greater progress in the coming decade.
支持香港國際攝影節
為秉持香港國際攝影節的獨立自主,專注社會、非營利的精神,以及守持表達及知識的自由傳達,活動的開放自由參加,誠邀您成為我們的支持者。
創始於2010年,每屆攝影節以不同主題之展覽,將攝影世界具獨特性、創造性的名字,以及值得關注的視覺文化思潮引入香港。同時,透過不同公眾活動,搭建香港與世界攝影文化的溝通平台,借影像呈現不同文化歷史議題,審視不同社會人文狀況,促進跨越地區與領域的對話。
香港國際攝影節由香港攝影文化協會主辦,協會為根據《稅務條例》獲確認豁免繳稅資格之慈善團體,凡捐款港幣一百元以上可獲扣稅。如需要收據用作扣稅用途,請在登記時註明,並在出席活動時與工作人員確認。如有任何問題,歡迎聯絡info@hkipf.org.hk。
Organiser of In Search of Traces of Shau Kei Wan Past | 地區攝影行:尋找筲箕灣舊日痕跡