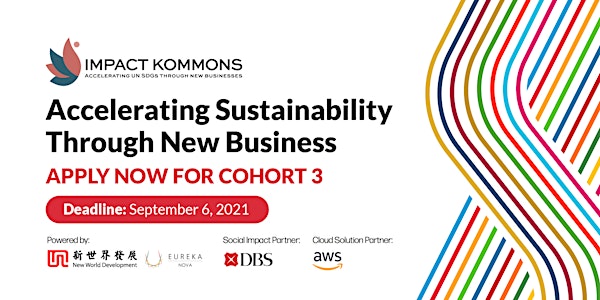 Impact Kommons Info Session #1
Learn more about the opportunity to pilot, commercialize or co-IP your sustainability or social impact company with New World Development
About this event
Impact Kommons aims to support companies that are focused on sustainability and social impact. These companies will have the opportunity to work with New World Group business units and partners across Hong Kong and Mainland China with have opportunities to pilot and commercialize their technologies.
What will you learn?
Learn about the results of the Impact Kommons program, what the application requirements are, and the benefits of participation. The team will also share about some of the experiences of previous cohort companies that collaborated with the New World Group business units. In the past 2 programs, 19 companies have had 21 business integrations with New World Group.
Who should attend?
Companies that have a focus on sustainability impact
Companies who can collaborate with New World Business Units and partners to leverage their business model and credentials
Companies that intend to expand their business in both Hong Kong and/or mainland China
In the meantime, to learn more about the program visit: www.impactkommons.com
Application deadline: September 6, 2021
You are encouraged to apply early as the business units will begin to review the applications as we receive them and allows more time for them to understand if you are a good fit.
--
Organizer Info
Impact Kommons offers an open innovation platform focused on business integrations for high-impact startups to collaborate with New World Group businesses, sustainability experts and global partners to scale solutions that fulfill United Nations Sustainable Development Goals for a better tomorrow. The Impact Kommons program is a flagship program under Eureka Nova.
Eureka Nova is a leading open innovation platform that empowers technology startups to co-create within the New World Group ecosystem of culture, creativity and innovation.
Accelerator programs
Open competitions
Sandboxes and innovation lab
--
Have an inquiry? Contact us at info@eurekanova.com.