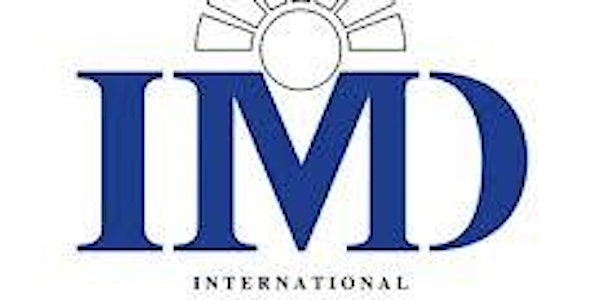 IMD Alumni Club: Year-end dinner with Professor Dominique Turpin
When and where
Location
The Foreign Correspondents' Club 2 Lower Albert Road Central Hong Kong Hong Kong
Description
Dear IMD Alumni,
We would like to invite you all to join us for a year-end celebration with Professor Dominique Turpin on December 5,2017.
Marketing Strategies of Industry Disruptors
Discover key marketing principles used by industry disruptors like Uber, Tesla, Alibaba or Uniqlo and how traditional companies can disrupt themselves to build competitive advantage.
In this session, we will look at five key marketing principles that industry disruptors are using to transform or create new industries. We will also look at how more traditional companies can take advantage of these principles to disrupt themselves and others to build a sustainable competitive advantage. The presentation will be illustrated with examples of many different players in Latin America, European and Asia.
Dominique Turpin served as IMD President from July 2010 until January 2017. He was also Nestlé Professor at IMD. He was previously the director of the IMD MBA (Master of Business Administration) and PED (Program for Executive Development). Professor Turpin has directed customized programs for companies such as Groupe SEB, Panasonic, Japan Tobacco International. He has extensive teaching, consulting and research experience in the areas of marketing and international strategy both in Europe and in Asia, particularly in the area of brand management, customer orientation and communications strategy.
He has worked as a consultant and management educator with a large number of international companies including: Coca Cola, CPW, Danone, DSM, Jardine Matheson, Nestlé, Novo Nordisk, Philips and Uponor. He also served as a board member for ITOCHU Europe, a leading Japanese trading company and the Ecole Hôtelière de Lausanne.
Dominique Turpin has widespread executive seminar and consulting experience for clients in Europe, Asia and Latin America.
Prior to joining IMD, he spent several years in Tokyo as a representative of a French firm in Japan. He served as Visiting Professor at the Keio Graduate School of Business Administration, Japan. Since 1994, Professor Turpin serves as the IMD representative on the Academic Council of the China-Europe International Business School in Shanghai (People's Republic of China).
Dominique Turpin received his master's degree from ESSCA in France. He earned a doctorate in economics from Sophia University in Tokyo, Japan. He has been a regular contributor to the Nihon Sangyo Shimbun (The Japan Industrial Journal), one of the leading business dailies in Japan. Professor Turpin is also the Continental European editor for the Long Range Planning Journal, the international journal of strategic management and an editorial advisor for the Singapore Management Review. His current research focuses on brand management, and he has been widely published in more than 100 books, articles and case studies including the Financial Times, European Business Forum and MIT Sloan Management Review.
Event details:
Date: Tuesday, December 5, 2017
Venue: The Foreign Correspondents' Club
Location: 2 Lower Albert Road, Central, Hong Kong
Fee: $680 (includes three-course dinner and drinks)
Total Fee: with online Eventbrite charge: $704.75
Registration: please register and pay online at https://imdhk2017dec5a.eventbrite.hk
Please register by Tuesday Nov 21, 2017. Partners and friends are welcome, if seating permits. Limited number of seats are available. Registration will be on a first-come first-reserved basis with priority given to alumni. Please contact our club at hong_kong@alumni.imd.ch, if you have any problems with registration.
Event program:
18:30- 19:15 Registration
19:15 - 20:00 Talk by Professor Dominique Turpin
20:00 – 21:30 Dinner and Networking
We look forward to welcoming you at the event.
IMD Alumni Club of Hong Kong