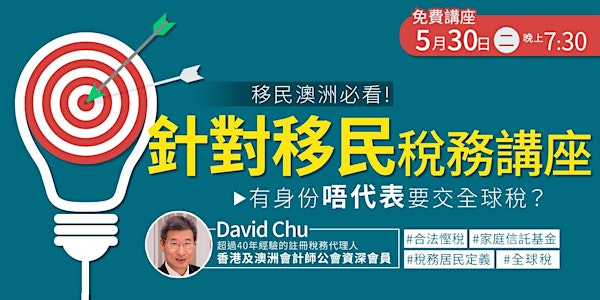 [IM] RW X SWHK Taxation Seminar 30 May 2023
移民澳洲必看! 針對移民申請人稅務講座 有身份都唔一定要交全球稅?
Location
The Balmoral Display Gallery 1633, 16/F, Star House 3 Salisbury Road Tsim Sha Tsui, KOW Hong Kong
About this event
與香港相比,澳洲的所得稅法規比較複雜,在考慮或者計劃移民時,當地稅法是必上的一課,特別是在香港什至全球擁有資產的人士。
移民申請後幾年,主要經濟活動仍在香港發生,稅務點計?
想有身份, 但又唔想咁快成為稅務居民?
成為稅務居民後,如何合法慳稅?
第一次落地不能做的事?
5月30日誠邀擁有超過40年經驗的註冊稅務代理人David Chu為我們一一解答。David是香港及澳洲會計師公會資深會員,對兩地稅法了解深入。講座上,前移民官Mei Lai更會補充不同簽證不同身份對於納稅上有何影響,你又有那種簽證選擇。正在計劃移民又或者即將前往當地的你,萬勿錯過!
💡參加講座可獲免費一對一移民諮詢
About the organiser
Ray White Founded in 1902 in Queensland, the still family-owned Ray White is now a household name in Australasia with an annual turnover of $43 billion, over 1,000 offices not only in Australia and New Zealand but also China, Southeast Asia, the Middle East and USA.
In 2014, Ray White established its presence in Hong Kong, with a strong focus in bringing Australian real estate opportunities to investors in Hong Kong and the Greater China Region, providing a one-stop-shop to all of our clients here to invest in oversea properties. To eliminate the time, stress and wasted money, we offer our full and continuous support to all clients from property selection to property management.
Award Recognition
In 2015, Ray White Hong Kong are recognized as the best oversea real estate agency in 'The Outstanding Developer's Business Partner–Overseas Real Estate Agency' by Capital and Capital Weekly, the leading financial magazine in Hong Kong.