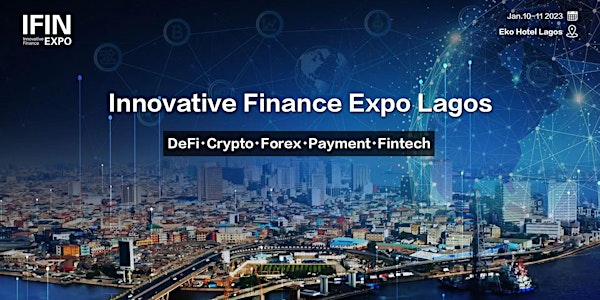 IFINEXPO Lagos--Innovative Finance Expo
IFINEXPO Lagos--Innovative Finance Expo (forex, fintech, online payment, crypto, DeFi, web3.0, NFTs...)
When and where
Location
Eko Hotels & Suites Plot 1415 Adetokunbo Ademola Street Lagos, LA 106104 Nigeria
About this event
After being highly praised by Bangkok and Kuala Lumpur of the International Financial Industry Expo 2018 and 2019, IFINEXPO will come to beautiful and warm Lagos in January 2023. We hope that by hosting this expo, we can promote the development of the financial industry in the local area, conform to the development of the times, promote the economic and cultural exchanges between the two countries, and strengthen the exchanges between the two peoples. Together with many local strategic partners and many authoritative exhibitors in Nigeria, we jointly build the financial ecology and create the future of the industry, so as to help the financial industry exchanges between the two countries, develop cooperation and win-win results.
Lagos is the former capital and largest port city of Nigeria and the largest city in West Africa. In Nigeria, Lagos is like Shanghai in China. It is the economic, financial and shipping center of Nigeria and the super first tier city of Nigeria. The Lagos Investment Summit is scheduled to be held on 10-11 January, 2023, hoping to bring you a different experience when you are about to or have already developed in the financial industry!
Lagos is a Nigerian seaport, located in the southwest of the border. It is also the largest city in sub Saharan Africa and the second largest city in Africa. Lagos is responsible for 80% of Nigeria's imports, mainly including basic materials, real estate, construction, telecommunications, transportation and financial services.
The Expo will continue the theme of "connecting to make finance more efficient" in the past few Expos, establish a professional and high-end brand image for enterprises, devote to the sharing of professional knowledge and resource docking in the financial field, realize the zero distance contact between the financial small white and the industry bigwigs, and bump into the sparks of wisdom and ideas. In addition to foreign exchange brokers, financial technology companies and other financial companies and technology solutions companies, the summit will also involve PE, VC, M & A, real estate and other industries. It will not only cover all aspects of the financial industry resources, but also step out of the industry. At the same time, there will also be many big names in the financial industry who will arrive at the scene, with the participation and support of many companies and industry insiders. This summit will become an opportunity to share, exchange and connect with each other.
IFINEXPO Lagos is committed to building a platform for knowledge sharing and resource docking in the financial industry chain, bringing together information and resources, and effectively connecting all links, people, technology, products and capital in the financial industry chain. It is mainly aimed at the management of high-end institutional customers, institutional agents, securities executives, asset management companies, technology suppliers, and managers of wealth management institutions in the financial industry chain.
Exhibitor composition: major media, financial technology companies, financial supporting service companies, financial securities companies, software companies, software providers, etc
Audience composition: major media, financial companies, financial technology companies, agency companies, financial companies, foreign exchange industry practitioners, bank executives, securities executives
【Contact us】
Twinkle: Business Development Manager at FiFin
Mobile: +86 18621737740
WhatsApp/Telegram: +86 18621737740
Skype: twinkle01131206@163.com
WeChat: 18621737740
Email:twinkle@ifinexpo.com; oscar@ifinexpo.com