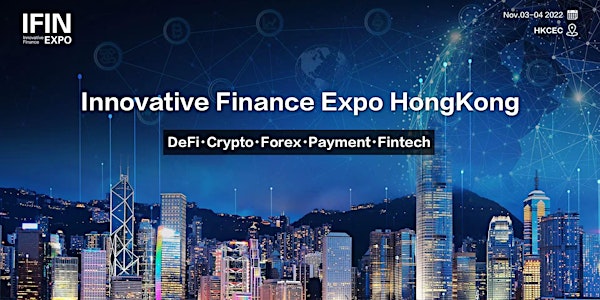 IFINEXPO HONGKONG--International Finance Expo
Forex, fintech, payments, crypto, blockchain, NFTs, DeFi, Web3.0, GameFi...
Date and time
May 7, 2025 · 8:30am - May 8, 2025 · 5pm HKT
Location
香港会展中心 1 博覽道 Hong Kong, HKI Hong Kong
About this event
1 day 8 hours

Mobile eTicket
As a mature financial media, FiFin (formly known as FigureFinance) has hosted many large and small expos. In the past seven years, IFINEXPO- International Finance Expo was well received in Shanghai, Beijing, Hong Kong, Sydney, Bangkok and Kuala Lumpur, etc. This November, we are coming to the thriving free port of Hong Kong again.
In addition to cryptocurrency exchanges, forex brokers, financial technology companies such as electronic payment and cross-border settlement, The exhibitors in PE, VC, asset acquisition and overseas real estate will also be involved. At the same time, there will be a lot of big names in the financial industry. With the participation and support of many companies and industry insiders, this summit will be an unmissable opportunity for resource sharing and communication.
Exhibitor composition: major media, financial technology companies, financial supporting service companies, financial securities companies, software companies, software providers, etc
Audience composition: major media, financial companies, financial technology companies, agency companies, financial companies, foreign exchange industry practitioners, bank executives, securities executives.
As a professional financial media, FiFin, founded in 2014, is one of the representatives of the rapidly rising fintech media service platform. FinFin has rich experience and a long history in organizing financial expos. In the past 8 years, FiFin has hosted more than 80 financial expos. Adhering to the aim of "building a high-value platform to connect the financial industry and promote the development of the fintech industry", FiFin has developed into a well-known news and expo brand in the field of fintech in a short time. To date, FiFin has been committed to promoting the development of the fintech industry, providing meaningful and influential information, expos, conferences, marketing services and consulting services to clients who trust and support us.
【Contact us】
WhatsApp: +86 18621737740
WeChat: 18621737740
Email:twinkle@ifinexpo.com
Web: http://ifinexpo.com
About the organizer
From 2014 to 2022, FiFin has successively organized expos in the fields of forex, fintech, cryptocurrency, meta and so on. Our events include IFINEXPO, CFXEXPO, GFDC, iCryptoExpo, MetaExpo,IBCFEST, etc. We established a work team with rich experience and executive power, and constantly inject new vitality into each expo events. From 2014 to 2022, In addition to holding more than 100 large-scale financial expos in China, FiFin also held well-known expos in fintech and forex industry in Sydney, Bangkok, Kuala Lumpur and achieved great success!