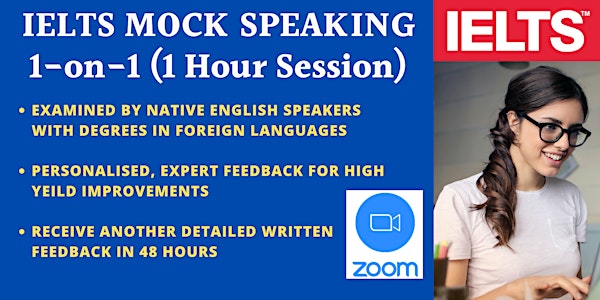 IELTS MOCK SPEAKING PRACTICE - BY IELTS CRASH COURSE
IELTS MOCK SPEAKING PRACTICE PERFORMED OVER ZOOM.
About this event
Are you soon taking the IELTS speaking exam?
If you are and would like to know how you can improve your English speaking skills; come and join us. We will have professional IELTS speaking examiners to interview you and perform a mock practice session on you. This will be based on the real IELTS speaking test you will have on the day. Following the mock practice, we will provide constructive feedback with teaching to ensure you learn and know what areas you'll need to improve on. Each session will be conducted by one of our highly selected and trained IELTS tutors, whom they will have lots of experience in teaching English as a foreign language, together with IELTS.
We will be testing you in a simulated IELTS speaking test on:
1) Fluency and coherence (FC) = how clear and structured is your speech.
2) Lexical Resource (LR) = how good is your vocabulary.
3) Pronunciation (P) = how naturally you sound.
4) Grammatical Range and Accuracy (GRA) = how good is your grammar.
(The structure of the mock can be found from the image below. This will be combined with further teaching and feedback)
Come and embrace the challenge.
Extra information:
The event would involve around 1-hour 1on1 teaching and assessment with an experienced tutor. Your tutor would be assessing you with an actual IELTS speaking mark scheme and marking you based on the marking criteria. You will receive a grade for each session of the test with an overall mark at the end. It's a 1on1 mock speaking practice tailored to your individual needs and weaknesses, focusing on how to improve these weaknesses when you have an actual IELTS speaking exam coming up.