About this Event
The art of communication is particularly important in the design process. In this workshop, you will re-imagine the norm of communicating ideas and concepts, via embracing peer collaboration and co-creation.
溝通,在設計過程中尤其重要。在這工作坊,你將重新想像交流的方式及對語言的概念,同時學習與人合作共創的技巧。
16.11.2019 / 10:00am – 1:00pm @ 2/F Exhibition Area 2樓展覽空間
No. of Participant 名額:20
Language 語言:Cantonese 粤語
Difficulty 難度:Beginner 初階
Format 形式:Short lectures & group exercises 短講與分組活動
Guest Speaker 講者:Renatus Wu 胡卓斌
Target Audience 對象:Designers, students and anyone interested in Graphic Design and Story-telling 設計師、學生、對平面設計及說書有興趣人士
Free of charge 費用全免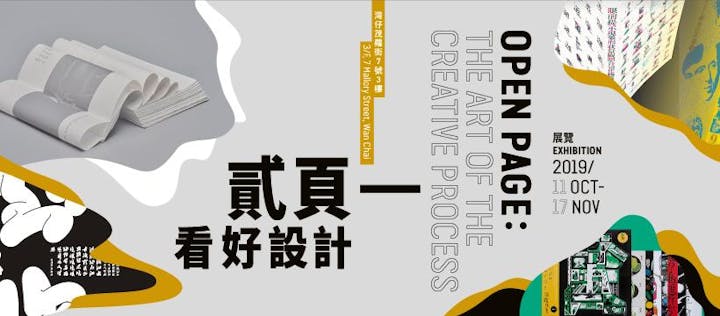 About the Exhibition - OPEN PAGE: THE ART OF THE CREATIVE PROCESS
This second exhibition, "OPEN PAGE: THE ART OF THE CREATIVE PROCESS", is an ambitious project which looks into imagination and artistry in the process of content creation — making designs that promote pleasure, enthusiasm and reliability, that communicate and draw attention, and encourage quietness and thought.
Date: 11.10.2019 – 17.11.2019
Time: 10:00 – 19:00 (Mon to Sun)
Venue: 3/F, 7 Mallory Street, Wan Chai, Hong Kong
Free admission
關於展覽「貳頁 — 看好設計」
為了探討及表揚在設計書籍過程中所彰顯的想像力和藝術感,在第二個展覽「貳頁 — 看好設計」所展出的每本書籍均內有乾坤,見微知著,賦予讀者恬靜及思考空間,令人眼前一亮。
日期︰2019年10月11日 – 11月17日
時間︰上午10時 – 晚上7時 (星期一至日)
地址︰香港灣仔茂蘿街7號3樓
免費入場
Design Spectrum x IDK Design Thinking Workshop Series
設計光譜IDK設計思維工作坊系列
The workshop series aims to explore the inspirations brought by visionaries behind Design Spectrum's concurrent exhibitions, and to re-discover the connections between Design, Creativity and Innovation.
此系列工作坊以設計光譜展覽為出發點,讓參加者探索各創意先驅帶來的靈感,重新發現設計、創意與創新的聯繫。
About Institute of Design Knowledge (IDK)
設計知識學院簡介
The Institute of Design Knowledge (IDK) imparts design knowledge and innovation training to enhance the competitiveness of local industries by exploring, developing and sustaining innovative approaches in the workplace.
設計知識學院為本地人才傳授專業設計知識及培訓創新能力,藉以探索、開拓及延續其專業領域上的創新元素,提升本地不同行業的競爭力。