Description
This event is for all women looking to launch a new chapter in their career or business. You'll walk away with a clearer image of your big picture, your next steps and the beginnings of a new network of support for growth.
Attend this event if you:
Have an idea but need some help to refine it
Know you want to start a business but have no idea at all
Need help thinking through a potential pivot in your business
Beginning with an introduction to ideation theory and process, we will then break out into smaller groups to work through some of your individual challenges. You will have the opportunity to discuss with smaller focus groups in a similar business stage. A facilitator will ensure that each individual's ideas and challenges within these small groups are heard and addressed.
We strive to make this event an impactful way to get your idea up and running in no time. When registering, please ensure you fill out the entire form telling us a little about yourself so that we can place you in the most appropriate group to meet your needs.

The Rundown:
6:30 - 7:00 Networking & Registration
7:00 - 7:30 Introduction to Ideation by Peter Dingle
7:30 - 8:00 Idea Lab Focus Groups
8:00 - 8:30 Closing
Speakers/Facilitators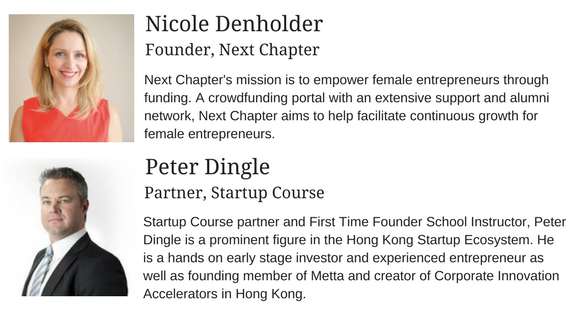 About First Time Founder School
Next Chapter has teamed up with Startup Course, creator of the #1 First Time Founder, start-up curriculum in the world to offer a unique program specifically designed for female entrepreneurs. The 12 modules, which take you from idea to funding, have been developed by professors teaching at leading business schools. Startup Course have already helped more than 3500 start-up founders from over 60 countries turn ideas into fundable businesses.
Brought to you by the First Time Founders School for female entrepreneurs.