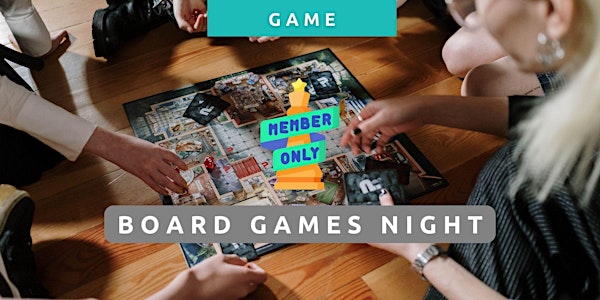 ICE Explorer | Board games night
Board games night
When and where
Location
ICE Inter Cultural Education 16 Hung To Road #1208 Hong Kong, KOW Hong Kong
About this event
Hello everyone again!! ICE will be holding Board Game for our friends during this amazing summer! We welcome you ask your friends to join our exciting night. It is a precious chance to catch up with our ICE buddies too!
It is a great time for you to meet new friends from different background and nationality while enjoying the board games as well.
The event details are as follows:
Date: 15 July 2022 (Fri)
Time: HKT 7:00 pm* (You are welcome to come early and bring your dinner here before the event started.)
Venue: Kwun Tong
Quota: 15
To bring: Bring along any fun games for the night and some cultural drinks/snacks to share!
Let us know if you have any fun games that want to host!
We suggest you to have your dinner before coming, however If more people would like to have dinner together, we may arrange it based on the number of the guests.
_________________
Organisation Introduction:
We are Inter Cultural Education (ICE), a social enterprise aiming to educate people to appreciate and be able to accept the cultural diversity of the world. ICE has helped more than 30,000 people in Hong Kong to connect and understand the world better through cross-cultural dialogues.
In the past 10 years, ICE has worked with people from more than 85 countries from all walks of life to promote the solidarity of a local community with the international community. Due to the situation under COVID-19, we are offering a special online programme called Explorers' Month, to bring the world to the public without leaving the city through a series of events. Follow our social media to learn more about world cultures: