Description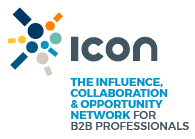 The International Association of Business Communicators (IABC) Hong Kong and ICON Hong Kong invite you to a year-end morning celebration of the holiday season and the spirit of giving.
Join us on Wednesday 12 December for a morning coffee and tea to hear from Wendy Ng and Lauren Houghton of Asian Charity Services. ACS is a registered charity that supports nonprofit organizations that serve Hong Kong's neediest citizens and communities. Find out about how you can share your expertise – and sharpen your skills -- through pro bono business consulting for NGOs in 2019 and beyond through structured workshops, hackathons and training seminars.
You'll also get some quick tips on how to get more out of networking before you put it into practice with our IABC and ICON friends.
Give yourself a morning treat and give our community a boost that lasts a lot longer. We look forward to seeing you.
Stay connected with us so you get the latest and greatest updates on our events and happenings. Follow, like and tag us on social media - search for 'IABC HK' on Facebook or LinkedIn!
About Asian Charity Services
Asian Charity Services (ACS), a registered charity, was established in 2007 to serve nonprofit organizations that serve Hong Kong's neediest people and communities. We provide pro bono capacity building workshops, training and solutions to NGOs in Asia so that they can serve their beneficiaries more effectively, efficiently and sustainably.
We connect mostly small-medium-sized nonprofits to businesses and social-minded individuals and organizations who can provide advice and resources to the social sector. We engage and mobilize business professionals to volunteer their time and expertise in structured strategic workshops, to empower and inspire NGO leaders. Since 2007, ACS volunteers have contributed over 35,000 skill-based volunteering hours. Through more than 900 engagements, ACS has served more than 500 NGOs and 2,000 NGO leaders representing a broad range of social causes across Hong Kong and Asia.
ACS also connects corporations to NGO networks and facilitates implementation of their CSR and community development projects and provides a platform for corporations to engage and develop their middle and senior leadership teams in skill-based volunteering to benefit NGOs and the community.
Our mission is to "Serve those who Serve."
IABC thanks event sponsors: