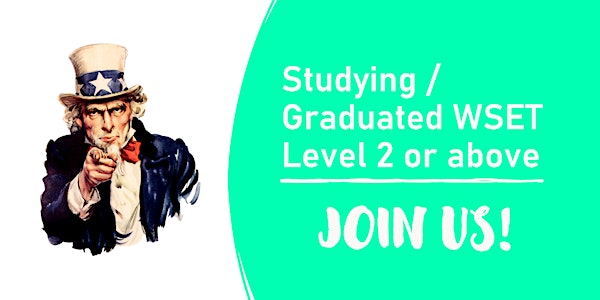 [I WANT YOU! Wine Taster] Whatsapp Group for WSET Graduates / Students
Location
Mei Ho Cafe
G/F, Mei Ho House, Block 41, Shek Kip Mei Estate, 70 Berwick Street, Shek Kip Mei
石硤尾巴域街70號石硤尾邨41座美荷樓地舖
Shek Kip Mei, KOW
Hong Kong
We want you if you are studying WSET Lv2 or above!
About this event
Have you ever encountered the following depressing scenarios 😩
- Being complained of speaking language of Mars🥴 on wine when you are drinking with friends without much wine background
- Worried about writing a tasting note when everything goes wrong❌.
- Feel so lonely 👉👈 to finish a whole bottle alone without anyone to share.
Come on drinking is supposed to be fun and enjoyable. Come and join our WSET study group and you won't face any of the above situations again!
If you are studying WSET (Wine & Spirit Education Trust) level 2 or above and would like to practice SAT (Systematic Approach to Tasting) with a group of buddies with similar interests and backgrounds. We will arrange:-
✔️- A regular (blind) tasting event and you can taste with members using the same SAT.
✔️- A WhatsApp group for sharing tasting notes with WSET Lv4 or Lv4 candidate.
✔️- At least 5 bottles will be arranged each time so that you can exchange your tasting note immediately with others.
Huh sounds good right ?!
please pm me your mobile or simply text me at +852 6359 5499 should you wish to join or would like to ask for more details.
Join our WhatsApp WSET Study group
Ciao 🤓🥂🍷
Disclaimer:
This study group does not offer any paid tuition service to WSET Students. We only coordinate group members who have studied WSET SAT to meet people using the same SAT in tasting for self-learning purpose. No content of exam papers (or reproduce them in any way) will be revealed to member who join the group. This includes making copies, taking photos, as well as discussing exam content.
Pls read & follow😉
1. As some members are in the wine trade company, information of wine mega sales / activities are all welcome, but please inform organizers 1st before post of it. The Group share no responsibility of any activities / trade not held by the Group.
2. By attending the Group event, you may be photographed &/ captured on video, and you agree to allow these likeness to be used for any legitimate and/or marketing purpose by the event hosts, producers, sponsors, organizers, and assigns.
3. Please bring your ISO glasses for activity, just inform me if you dont have.