Description
With the successful of last year Charity HIIT Run at beautiful KK Lakeside and thanks for your supports️, once again we. ANYTIME FITNESS partner with Great Heart Charity Association for another fitness charity event 'I CAN & I WILL FIT CHALLENGE CARNIVAL 2017' on 10th December 2017 and target 400 participants. 100% Charity.
Online registration is open NOW! Get the early bird ticket!
Call 012-2292097 for more details.
DARE TO CHALLENGE?
This event featuring 9 functional full body fitness challenges and 4 hours back-to-back group fitness session. Participants can choose either to complete the challenge in COMPETE mode or FUN mode in order to earn their finishing medal. Apart from the finishing medal, special prizes are to be won by Top Scorer who successfully complete the 9 fitness challenges in COMPETE mode.
Participants can either join the event as individual challenge (Single) or as a team (Team of 2 or Team of 3) to complete the challenge.


DON'T LIMIT YOUR CHALLENGES, CHALLENGE YOUR LIMITS!
9 Fitness Challenges and 4 hours back to back Group Fitness sessions will definitely rock you!!!
We also have you free sport massage therapy, free chiropractic spine screening, health screening by doctor, face painting, lucky draws, healthy food booth, Milo truck and many more...


9 Challenges: (COMPETE/FUN ; Single/Team of 2/Team of 3)

 Box jump x 50
Male 17" ; Female 13"
 Kettlebell Swing x 50
Male 16kg ; Female 12kg
 Farmer's Carry x 100m
Male 20kg ; Female 12kg
 Pad Kick x 100
 Kettlebell Squat Press x 50
Male 12kg ; Female 8kg
 Hurdle Jump x 100
Male 15" ; Female 9"
 Sandbag Burpee x 20
Male 15kg ; Female 10kg
 Agility Pole Drill x 100m
 Tire Pull x 100m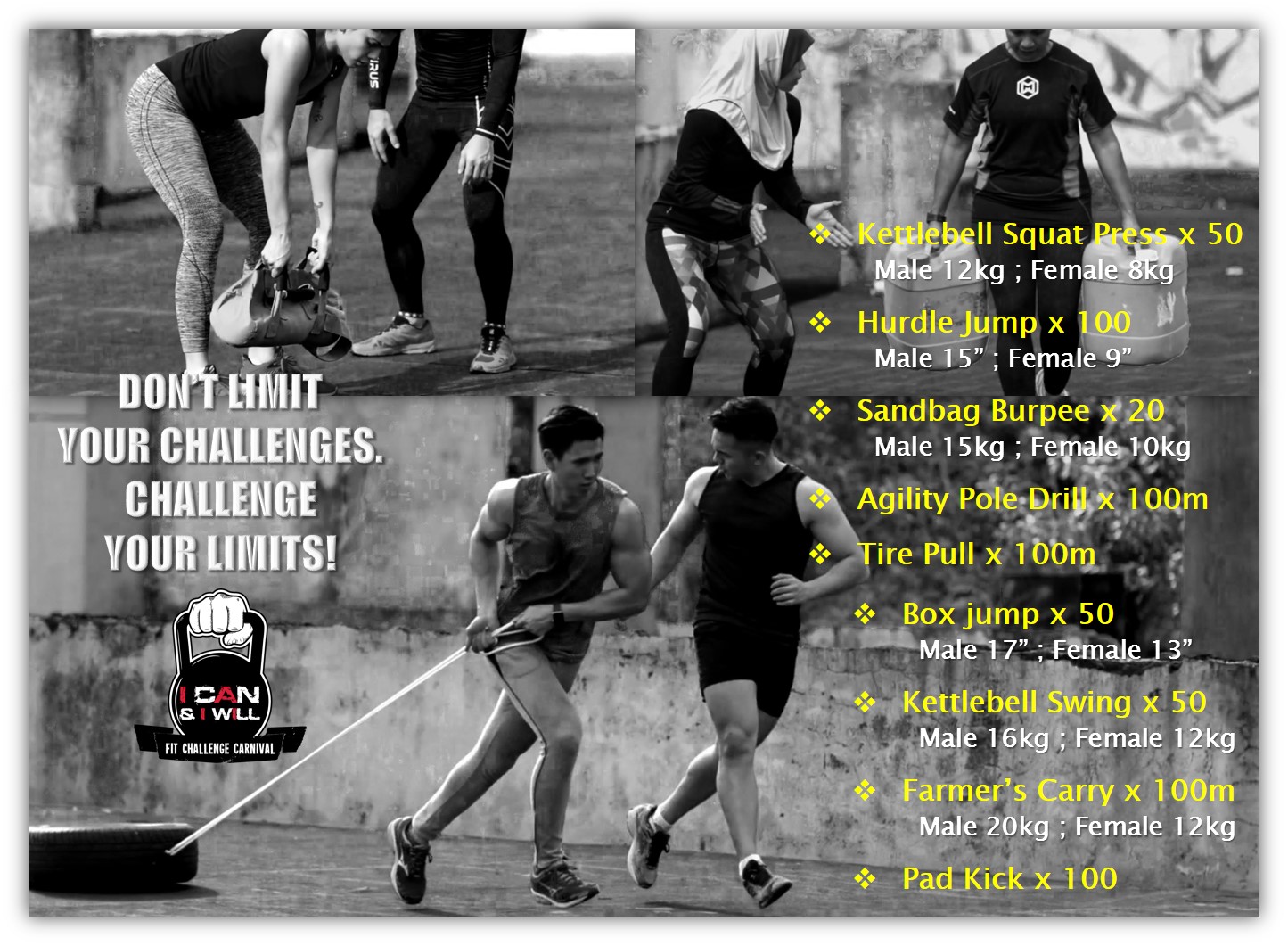 4 Hours Group Fitness sessions

Piloxing - PILATES + BOXING = PILOXING! The hot hybrid workout that's got you throwing punches.
Metafit - The Original HIIT Workout! 24 hours fat burning effect. SHORT. INTENSE. REWARDING!
Nirvana Fitness - The award winning music with pilates and yoga movement. MAKE THE WORLD BREATH AGAIN!
Zumba Fitness - Party yourself into shape. Feel the music and let loose. SWEAT & FUN DANCE PARTY!
*However, you are welcome to participate whole event or partly (JOIN AT YOUR WILL).
WHAT DO YOU GET:
Finisher Medal (Fit Challenge Completion)
Ultron Micro-Dry Shirt (*Size Chart as below)
Goodies Bag
A Great Story to share with Friends and Family
Visit our FB event page for more updates : https://www.facebook.com/events/470693576657371/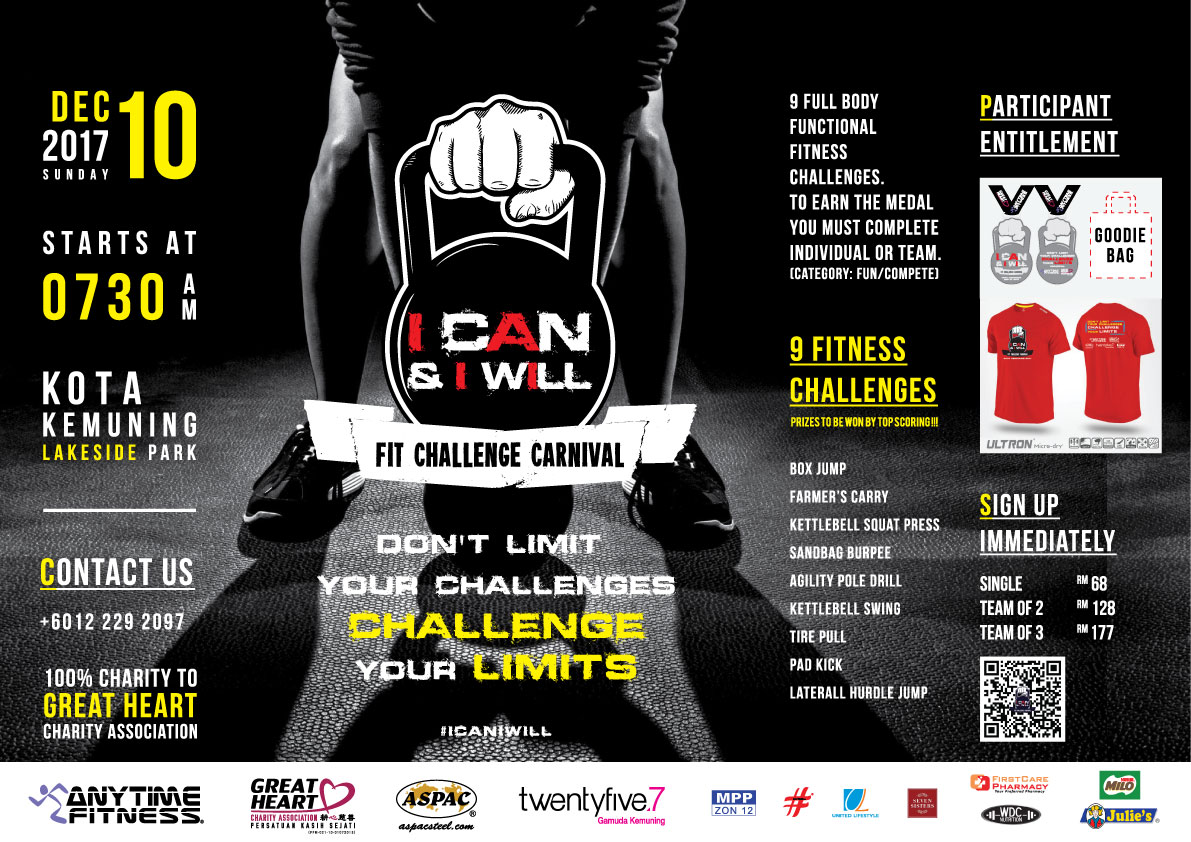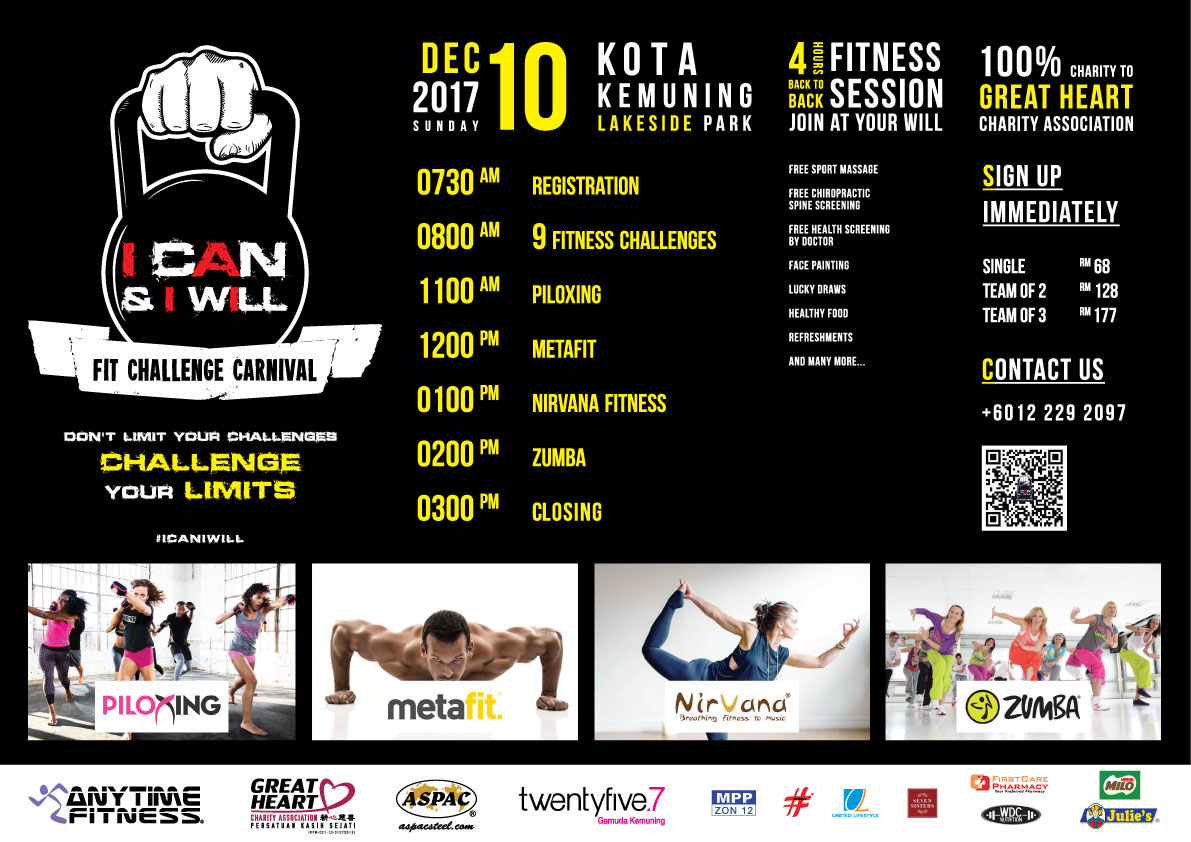 Anytime Fitness Malaysia, part of the world largest network gym is living up to its Corporate Social Responsibility (CSR) is organising this event for Great Heart Charity Association (Persatuan Kasih Sejati). Proceeds raised from the carnival would be 100% contribute to Great Heart Charity Association for them to fund their operations.
About Great Heart Charity Association
Great Heart Charity Association is a non-profit charitable organization in Malaysia. Their mission is to cultivate a caring society by making charitable giving a part of everyone's life and creating a platform to link contributors, beneficiaries, and volunteers. They aim to provide assistance to their beneficiaries in two key aspects: in the form of financial aid as well as emotional support.
Participant Assumption Of Risk and Release

The organizer or any of their direct and indirect associates, sponsors and volunteers shall not be held responsible or liable for any whatsoever claim for any risks of injury from taking part of this event.
Notes: The Organizer decision on all matters relating to this event shall be final, conclusive and binding. The organizer is not obligated to give any reasons on any matter in the event.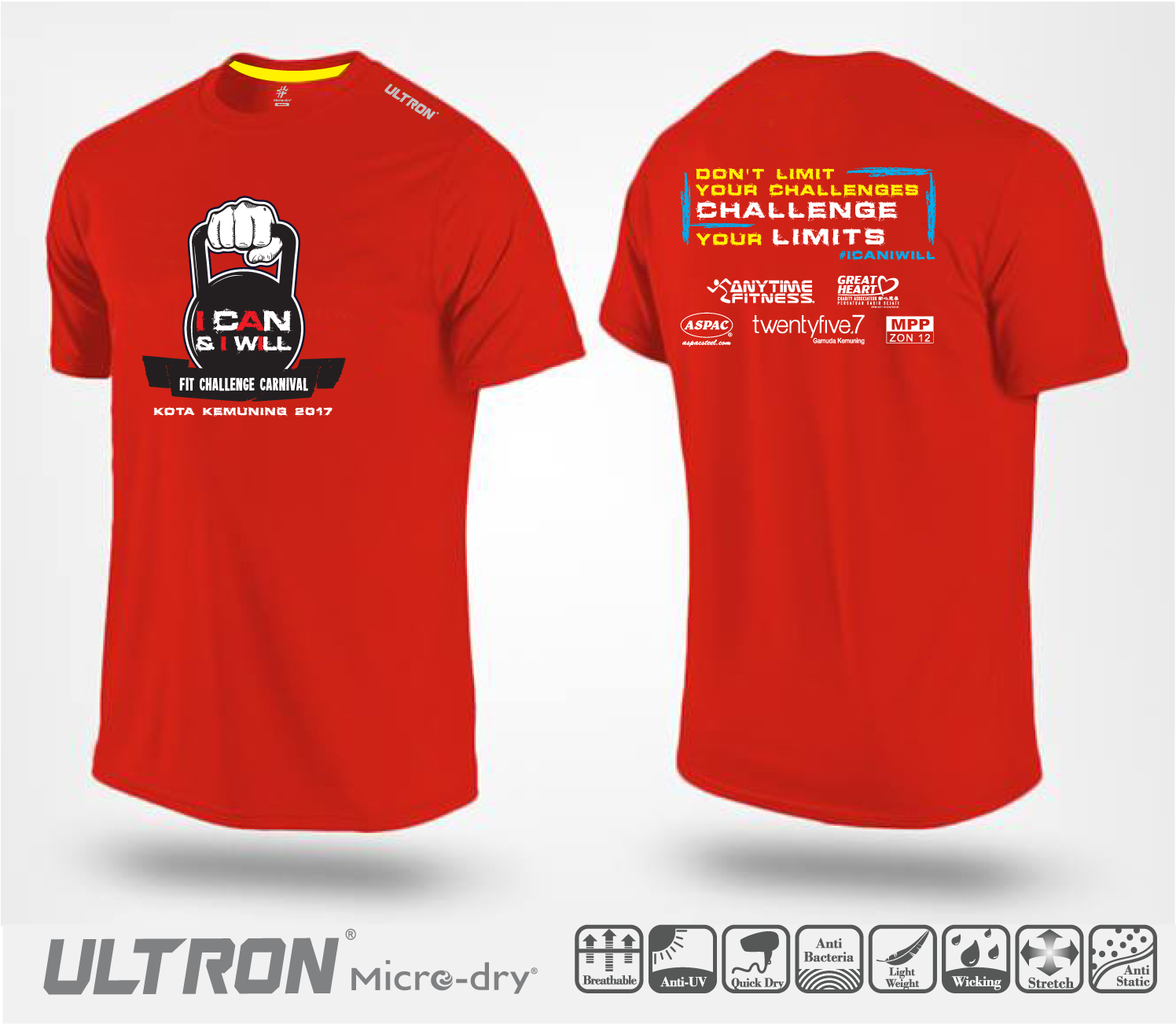 Micro-Dry Shirt Size Chart: