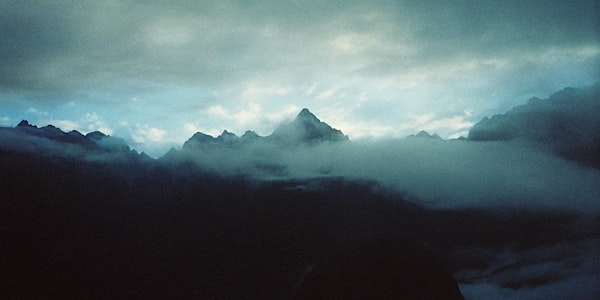 I by i_is_one
I by i_is_one|HKIPF 2021 香港國際攝影節
When and where
Location
The Hong Kong Jockey Club Hall 香港賽馬會廳 Asia Society Hong Kong Center The Hong Kong Jockey Club Former Explosives Magazine, 9 Justice Drive Admiralty, HKI Hong Kong
About this event
I
Observe outward, immerse inward. A journey for the body and soul through sound and vision.
Wing Shya's spiritual cleansing and awakening began on travels to the Peruvian Amazon a few years ago with a group of friends. In early 2019, back in Hong Kong, they started improvising music together, where the resonance of the crystal singing bowl, acoustic instruments and human voices coalesced into the unison of the body, the soul and the universe.
Spring 2020 saw the naming of i_is_one, their collective that seeks to bring the 'simple' joy of playing music to the world through performances and workshops.
During I, members of i_is_one will lead the audience through a throat-chanting session to awaken the seven chakras, opening new doors to experiences with sound.
觀於外、寖於內。一趟從聽覺與視覺出發的身心歸一之旅。
數年前夏永康與友人一趟秘魯亞馬遜森林之行,經歷了神奇的靈魂清洗與開悟;二〇一九年初,他們開始不時聚在一起即興吹打彈奏,用上水晶頌缽及不同原聲樂器,再配合個人聲線,希望達至和諧共振的狀態,回歸身心與萬物一體的快樂。
二〇二〇年春正式命名為 i_is_one,透過演出與工作坊,期望能將這簡單快樂推廣傳揚。
演出過程中,觀眾可在團員帶領下練習七輪喉唱,開發自身聲音的可能。
i_is_one
Officially founded in Spring 2020 by Wing Shya and friends who enjoy playing music together, i_is_one has been wholeheartedly reaching out to wide and wider audiences, hoping to bring the joy of playing music to the world. They believe that true music comes through the Heart, and back in.
2020年春,夏永康與一群熱愛聚在一起玩音樂的朋友組成i_is_one,自此希望能透過音樂將這簡單快樂感染更多人;相信真正的音樂由心而發,再回歸內在。
Venue 地點| The Hong Kong Jockey Club Hall 香港賽馬會廳, Asia Society Hong Kong Center, 9 Justice Drive, Admiralty, Hong Kong 亞洲協會香港中心力寶展藝場​​ 香港金鐘正義道9號​​
Time 時間 |5:30-7:30pm 27.11.2021
Language 語言|In Cantonese with English interpretation. 粵語進行,設英語傳譯。
Support HKIPF
Support freedom of expression and help facilitate the growth of the arts by making a donation to the Hong Kong International Photo Festival. You may visit our website stall.hkipf.org.hk or reach us at our contact number or email. Your contribution will go towards our operation, future programmes and keeping our events accessible.
The Festival is organised by the Hong Kong Photographic Culture Association, which is a tax-exempt charity under section 88 of the Inland Revenue Ordinance. Donations above HKD 100 are tax deductible.
The Festival was launched in 2010. In each edition, the Festival focuses on a different theme, introducing noteworthy photographers, trends, and movements, discussing manifold issues and perspectives. Through a wide range of public programmes, the Festival bridges Hong Kong and international visual practitioners, creating conversations between people and place, past and present, with oneself and the world.
With your support, we hope to make ever greater progress in the coming decade.
支持香港國際攝影節
為秉持攝影節的獨立自主,專注社會、非營利的精神,以及守持表達及知識的自由傳達,活動的開放自由參加,誠邀您成為我們的支持者:請即前往網址 stall.hkipf.org.hk,或致電或電郵與我們聯絡有關捐款安排。
香港國際攝影節由香港攝影文化協會主辦,協會為根據《稅務條例》獲確認豁免繳稅資格之慈善團體,凡捐款港幣一百元以上可獲扣稅。
創始於2010年,每屆攝影節以不同主題之展覽,將攝影世界具獨特性、創造性的名字,以及值得關注的視覺文化思潮引入香港。同時,透過不同公眾活動,搭建香港與世界攝影文化的溝通平台,借影像呈現不同文化歷史議題,審視不同社會人文狀況,促進跨越地區與領域的對話。
在攝影節邁向十一週年之際,請與我們一起前進,成為我們迎向下個十年的重要後盾。