Sales Have Ended
Registrations are closed
Thank you very much!
Sales Have Ended
Registrations are closed
Thank you very much!
Hyatt Summer Academy | Kid's School │ Sports 香港凱悅夏令營 │ 兒童潛能發展課程 │ 運動
About this Event
Kids' School (Sports)
兒童潛能發展課程 (運動)
Fill your summer with extra fun by joining Hyatt Summer Academy, an inspiring edutainment featuring an array of comprehensive activities, expertly curated by our team at Hyatt Regency Hong Kong, Sha Tin for the entire family to enjoy.
Best for kids and young adults aged 4-18 - Grab this opportunity for your kids to build confidence and skills, as well as to step out of the comfort zone by joining these exciting trial classes, including Taekwando, Tennis, Thai boxing and more.
*Terms and conditions apply
Free registration.
Participation fee: $100.00 - 150.00 HKD cash per class per person
酒店於今夏安排了一系列充滿趣味和教育意義的活動,讓您與家人在五星級家庭度假酒店同渡充實暑假!
把握機會,讓4-18歲的孩子透過參與多元化的活動,包括跆拳道 、網球、泰拳等,走出舒適區,從而建立信心和技能。
*受條款及細則約束
免費登記,參加課程者,每位每堂現金港幣$100.00 - 150.00元正
Beginner for Yoga / Tennis / Thai boxing / Taekwondo/ Football / Fencing.
The instructors will share some basic knowledge, such as rules and regulation, basic skills, tips on posture and how to pick the right gear. Sweat and stretch - have fun!
瑜珈 / 網球 / 泰拳 / 跆拳道 / 足球 / 劍擊入門課。
導師將分享此運動的基本知識,包括規例、基本技巧、運動姿勢,以及如何挑選合適的裝備。揮汗拉展,盡情投入!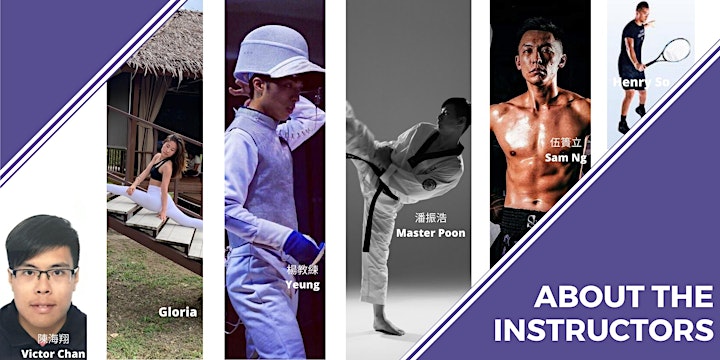 About the Instructors 導師資訊
Gloria (Yoga)
Graduated from the University of Greenwich, UK with a bachelor of business administration, Gloria has loved art and sports since childhood. Suffering from hormonal disorder after her first career in hotel industry, Gloria then changed her career path to yoga. Being recognized as an international yoga instructor in 2017, Gloria has also learnt gymnastics, ballet and piano. She is currently an instructor of adult and children.
Gloria (瑜珈)
Gloria畢業於英國格林威治大學,並獲得工商管理學學士。 Gloria 從小熱愛藝術及運動, 後因身體問題轉而投身瑜伽。她於2017 年考獲國際認可瑜伽導師證書,兼習體操,芭蕾舞及鋼琴。她現時是成人及兒童瑜伽的導師。
Henry So (Tennis)
After college, Henry competed internationally in the professional men's tennis circuit and was once the highest ranked player for Hong Kong. Later he retired from professional tennis and started his coaching career. Henry now educates and licenses tennis coaches, and represents ATPCA Australian Tennis Professional Coaches Association and is the official presenter/tester in regions Hong Kong, Macau and China. He is also the ATPCA International Director of Strength and Conditioning. Henry is also an international presenter and helps educates tennis coaches globally. He also invented the STM®️ Shadow Tennis Movement Training System which uses shadow movements as an innovative way to develop tennis technique in tennis. Henry also very active in the fitness industry. He is a TRX Specialist (AGTC & FORCE) and is the official ambassador for Underarmour.
Henry So(網球)
Henry 在大學畢業後於澳洲成為職業網球選手,曾是香港當年排名最高的選手。他現任網球教練,並在香港,澳門和中國地區教授網球。他還是ATPCA總監及國際演講者,並在全球各地培訓網球教練。他還發明了STM®️影子網球運動訓練系統,該系統利用影子運動作為開發網球技術的方法。Henry在健身行業也非常活躍。他是TRX專家(AGTC&FORCE),也是Underarmour的官方大使。
Sam Ng (Thai boxing)
Sam has been practicing Chinese Martial Arts (Wing Chun) for 15 years since his childhood moment. Inspired by his teacher, he believes that Wing Chun is not just a set of self-defenses skills, but also contains some in-depth philosophical meaning, such as self-efficiency and self-scarification. Therefore he has set up S-fight Martial Arts Fitness in 2015, a fitness centre which teaches boxing, Muay Thai, Wing Chun and Brazilian jiu-jitsu.
伍簣立(泰拳)
自小習武的伍簣立對功夫有濃厚興趣,至今習武十五年。身為葉準的徒弟,伍簣立在他身上學習到詠春的人生道理,並在一起的時間件成立S-fight Martial Arts Fitness,此健身中心集武術與運動於一身,教授泰拳、詠春、各項搏擊運動及巴西柔術。
Master Poon (Taekwondo)
Poon is the regional vice president of the Hong Kong Taekwondo Jung Do Kwan and the leader of the SS Team. He is a 6th Dan Black Belt Taekwondo Master who is also certified as a Poomsae Referee and Judge by the Hong Kong Taekwondo Association. From 2000 to 2014, Master Poon was one of the members of the Hong Kong Taekwondo Team and competed in various international competitions as a Hong Kong athlete. In 2010 and 2013, he was also elected as the Taekwondo representative in the Hong Kong Sports Stars Award.
Master Poon is certified as a Children's Fitness Instructor. He is also enthusiastic in promoting Taekwondo to the general public with 20 years' experience in teaching.
潘振浩師範(跆拳道)
潘振浩師範為香港跆拳道正道舘區域副總教練,亦為道館SS Team領隊。潘師範為跆拳道黑帶六段,亦獲香港跆拳道協會認可成為品勢裁判及搏擊裁判。 2000年至2014年間,潘師範為香港跆拳道代表隊成員,2010及2013年榮獲香港傑出運動員跆拳道代表殊榮,近年熱心跆拳道教學及推廣,他擁有長達20年跆拳道幼兒至成人教學經驗,更考獲兒童體適能教練資格。
Victor Chan (Football)
Victor Chan has devoted himself in the sports field from 2006. After gaining his certificate in Grade 'C' and Futsal Coaching from The Asian Football Confederation (AFC), he has become a full-time football coach. Starting from 2015, Victor has been working in Tsuen Wan Football Association. He has coached a significant number of football classes to train up young athletes. He has also been one of the coaches of the regional football team. Victor is experienced in organizing football classes coaching over 200 attendees in one single event.
陳海翔(足球)
陳海翔教練於2006年投身教練行業,並於2015年轉職為全職教練,已考獲亞洲足協C級教練證書及亞洲足協五人足球教練級別二證書,多年間致力推廣足球運動,培育年青球員。2015年至今,陳教練於荃灣足球會工作,於區內教導多個足球訓練班,以及舉辦多個超過200人的足球訓練班,經驗豐富。
Master Yeung (Fencing)
In 2012, Master Yeung is qualified as a fencing coach, recognized by the Hong Kong Fencing Association, and then started his career in training local athletes. Yeung decided to enhance his teaching techniques to the next level, therefore he enrolled himself in the Bachelor Degree of Psychology from the Hong Kong Baptist University (HKBU) in 2016. Throughout his academic program, he served as a representative of the HKBU Fencing Team, and participated in multiple Inter-University competition. He eventually won the honor of the Best Athlete.
楊教練(劍擊)
楊教練自2012年取得香港劍擊總會頒發花劍劍擊教練證書,便開展本地劍擊運動員培訓。 劍擊教練資格外,他亦於香港浸會大學修讀心理學學士課程,期間為浸大劍擊隊擔任花、重、佩劍正選,榮獲最佳運動員殊榮。