Hyatt Summer Academy-Kids' School 香港凱悅夏令營 (Music & Performing Arts音樂及表演藝術)
Sales Have Ended
Registrations are closed
Thank you very much!
Sales Have Ended
Registrations are closed
Thank you very much!
About this Event
Kids' School (Music & Performing Arts)
兒童潛能發展課程 (音樂及表演藝術)
Fill your summer with extra fun by joining Hyatt Summer Academy, an inspiring edutainment featuring an array of comprehensive activities, expertly curated by our team at Hyatt Regency Hong Kong, Sha Tin for the entire family to enjoy.
Best for kids and young adults aged 4-18 - Grab this opportunity for your kids to build confidence and skills, as well as to step out of the comfort zone by joining these exciting trial classes, including Ukulele, Chinese Opera, Harp and more.
*Terms and conditions apply
Free registration.
Participation fee: $100.00 - 150.00 HKD cash per class per person
酒店於今夏安排了一系列充滿趣味和教育意義的活動,讓您與家人在五星級家庭度假酒店同渡充實暑假!
把握機會,讓4-18歲的孩子透過參與多元化的活動,包括夏威夷小結他、粵劇、豎琴等,走出舒適區,從而建立信心和技能。
*受條款及細則約束
免費登記,參加課程者,每位每堂現金港幣$100.00 - 150.00元正
Beginner for Ukulele & Guitar / Harp / Pipa / Percussion / Cantonese Opera.
The instructors will share some basic performing skills, tips on performance posture and how to pick a suitable musical instrument. Upon completion, the participants can perform some easy songs.
夏威夷小結他及結他/豎琴/琵琶/敲擊樂/粵劇入門課。
導師將分享基本技巧或指法運用、演出姿勢,以及教授如何挑選合適的裝備如樂器。完成課程後參加者可出演簡單歌曲。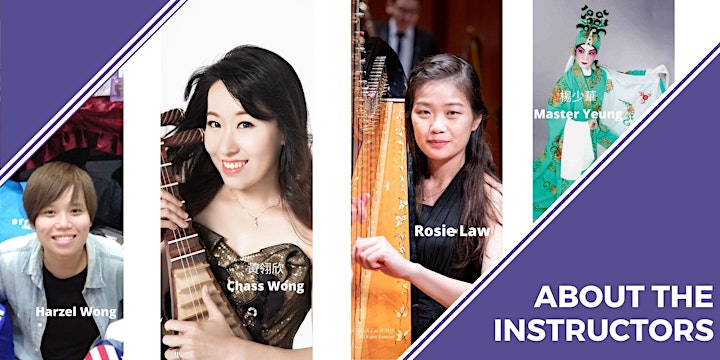 About the Instructors 導師資訊
Harzel Wong (Ukulele, Guitar and Percussion)
Harzel Wong graduated from The Education University from Hong Kong with an Associate Degree in Music. She has been teaching piano, ukulele, guitar and percussion for 12 years. Harzel learnt about musical arrangement from Ted Lo, a renowned musician in Hong Kong. She is also a composer and guitarist of her band group (E621) and has significant number of performing experience.
Harzel Wong (夏威夷小結他/結他/敲擊樂)
全職音樂導師Harzel Wong畢業於香港教育大學,擁有12年教授鋼琴、夏威夷小結他、民謠木結他伴奏及兒童㪣擊樂經驗。 她曾跟隨爵士樂大師羅尚正學習編曲,另組織樂隊E621並擔任作曲者和結他手,於不同場合表演。
Rosie Law (Harp)
Rosie is recently focusing on promoting music and musical instrument education. Rosie is a tutor of musical instrument classes in both primary and secondary schools. She is committed to train up students' (both kids and adults) both musical skills and aptitude. Rosie has also been actively participating in various kind of orchestral performance.
Rosie Law (豎琴)
現著力於推廣音樂及樂器教育。 現任多間中、小學之樂器班導師,以及擔任幼童以至成人的私人樂器及小組班導師,致力培訓學生音樂造詣,因材施教;並活躍於樂團演奏及表演,隨多個管樂及管弦樂團演出。
Wong Ling-yan, Chass (Pipa)
Chass Wong graduated from the Hong Kong Academy for Performing Arts (HKAPA) with a master degree of Music. Wong won prizes in different competitions, the first prize for the Pipa solo in the Hong Kong Schools Music Competition, the second prize in the Hong Kong International Pipa Competition (professional youth soloist), and the first prize in the Guangdong Province Chinese music competition (ensemble). Wong is now the director of Music-Joint Association, and the concert master of Windpipe Chinese Ensemble.
黃翎欣 (琵琶)
香港演藝學院音樂碩士(演奏) 。黃氏曾獲校際音樂節深造組冠軍、「2012CCTV 民族器樂電視大賽」傳統民間組合銀獎、「廣東省第四屆中國民族器樂大賽」專業青年獨奏組銀獎、「青樂杯第二屆國際琵琶大賽」專業青年獨奏組銀獎等。 黃氏現為竹韻小集樂團首席。
Master Yeung (Cantonese Opera)
Yeung graduated from The Hong Kong Academy for Performing Arts with a certificate in Chinese Opera and an advanced certificate in Chinese Opera instruments. Master Yeung founded Art-mate Society in 2003 and has been serving as President since then. She has been teaching Cantonese opera for more than 10 years.
楊少華老師(粵劇)
受學於⾹港演藝學院,持粵劇培訓及粵劇器樂伴奏進階班証書,習⽂武⽣。楊⽼師於 2003 年成⽴鑫韻劇藝社並出任社⾧至今,教授粵劇粵曲逾⼗年,極具經驗。