HS12 | 101 Studio x Design Graduates Happy Sharing 101設計室 x 設計畢業生歡樂時段分享
Description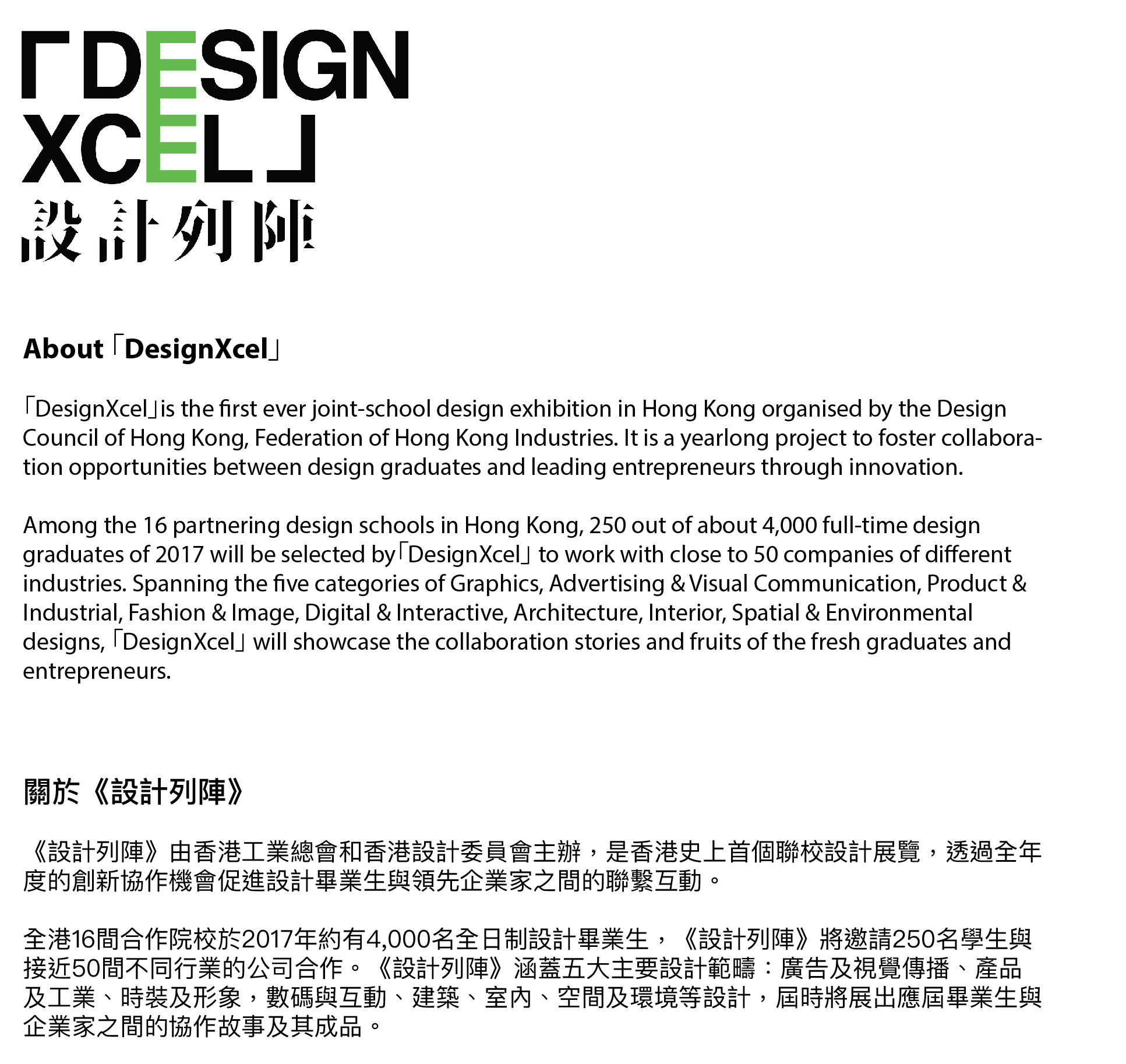 HS12 | 101 Studio x Design Graduates Happy Sharing
101設計室 x 設計畢業生歡樂時段分享
Date 日期 | 17 Oct 2017 (Tue 星期二)
Time 時間 | 11:00 - 11:45 (45 min 分鐘)
Location 地點 | Hong Kong Central Library Exhibition Gallery
香港中央圖書館展覽館
Language 語言 | Cantonese 粵語
Fee 費用 | Free 免費
No. of Pax 名額 | 70
Moderator 主持人 |
Ben Chung 鍾士斌 | Designer 設計師 | Eyepopper Design Limited 艾譜鉑設計有限公司
Designer
Speaker 講者 |
Bede Ip 葉旻皜 | Product Design 產品設計 | School of Design 設計學院 | The Hong Kong Polytechnic University 香港理工大學設計學院
Lewis Kwan 關兆希 | Product Design 產品設計 | School of Design 設計學院 | The Hong Kong Polytechnic University 香港理工大學設計學院
Chris Cheng 鄭偉豪 | Senior Product Manager 高級產品經理 | 101 Studio Limited 101設計室有限公司
Content 內容 |
Having participated in the guided tours of design schools organised by the「DesignXcel」team, Studio 101 was attracted by the works of Bede and Lewis. A meeting was soon arranged for the students and the company, bringing about this cross-disciplinary collaboration.
Lewis Kwan specialises in handling the look and feel of products, whereas Bede Ip focuses more on product functionality. Will the combination of the two be able to satisfy the demands of 101 Studio in developing future eyewear design that factors in function, user experience and good looks all at once?
101設計室參加《設計列陣》的設計院校導賞團,被兩位畢業生的作品吸引,透過團隊相約兩位會面,促成今次的跨界合作。
一位擅長處理產品外型;一位專注於產品功能,他們能否成功完成101設計室給予的眼鏡設計項目-集功能性、用家體驗和外形於一身呢?
The time and content of the 「DesignXcel」 Exhibition Programme are subject to change without prior notice. Please visit the website or Facebook Page of Design Council of Hong Kong for the updated details. All exhibition activities will be conducted in Cantonese and on first-come-first-served basis.
Successful applicants should arrive at the venue no later than five minutes after the programme commences; otherwise, the reserved seats will be released to walk-in visitors waiting for admission.
《設計列陣》展覽活動時間及内容如有任何更改,恕不另行通知。更新詳情請瀏覽香港設計委員會網站或Facebook Page。所有展覽活動皆以粵語和先到先得方式進行。
已成功報名人士如於活動開始後五分鐘仍未進場,已預留名額將開放予即場人士替補。