HS05 | Asia One x Polytrade x Suki Tong Happy Sharing 宏亞印務 x 友邦洋紙 x 唐芷琪歡樂時...
Description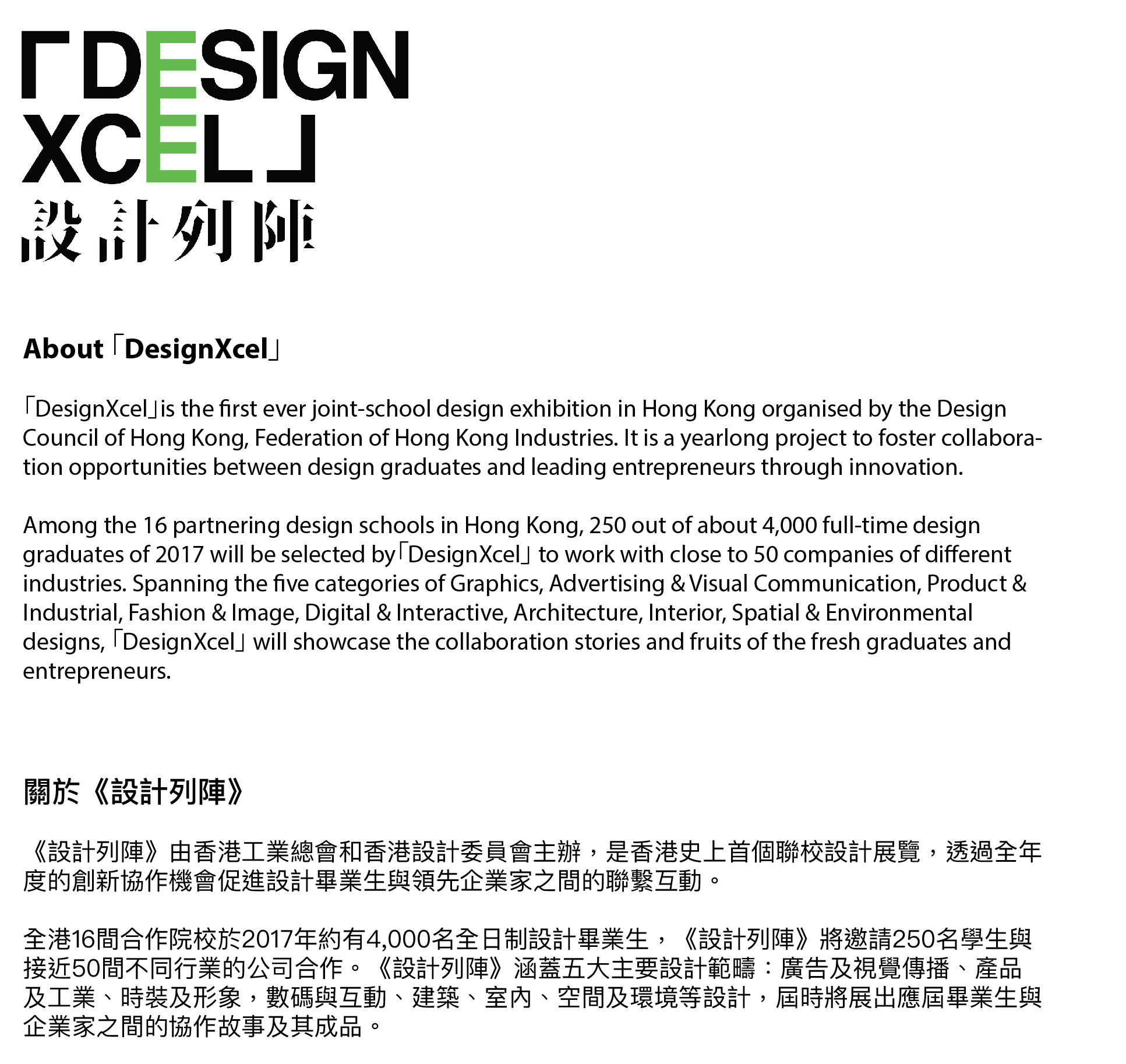 HS05 | Asia One x Polytrade x Suki Tong Happy Sharing
宏亞印務 x 友邦洋紙 x 唐芷琪歡樂時段分享
Date 日期 | 10 Oct 2017 (Tue 星期二)
Time 時間 | 18:15 - 19:00 (45 min 分鐘)
Location 地點 | Hong Kong Central Library Exhibition Gallery
香港中央圖書館展覽館
Language 語言 | Cantonese 粵語
Fee 費用 | Free 免費
No. of Pax 名額 | 70
Moderator 主持人 |
Eric Chan 陳超宏 | Founder 創始人 | Eric Chan Design Company Limited
Speaker 講者 |
Tong Tsz Ki, Suki 唐芷琪 | Graphics Design 平面設計 | School of Professional Education and Executive Development, The Hong Kong Polytechnic University香港理工大學專業進修學院

Evan Cheung 蔣焯鵬 | Business Development Director 業務發展總監 | Asia One Printing Limited 宏亞印務有限公司

Venus Ng 吳燕群 Marketing Manager 市場推廣經理 | Polytrade Paper Corporation Limited 友邦洋紙有限公司





Content 內容 |

Papers and printing have always been the good friends of graphic designers. This time, the sharing is to spell out how they have become friends.




The design graduate Suki Tong always has the best interests for designers in mind. Knowing the majority of designers rarely have the patience to finish a book, she has developed a set of "Want to Focus" exercises in her final-year project to help designers fight distractions and focus better with simple lines and patterns.




Polytrade Paper agreed to support her with their papers. As a result, the books are now fully made of Polytrade papers with different thickness and textures, there is the potential of turning them into their official paper samples as a showoff of their quality papers. Once the papers were all set, she was taken to Asia One the printer, where valuable marketing suggestions were given.




想言道「紙」和「印刷」是平面設計師的好朋友。今次的分享就要講解他們如何成為好朋友。




設計畢業生唐芷琪想到造福一眾設計師,她在畢業作品中創作了「Want to Focus」的一系列練習,希望能以簡單的線條和圖案讓設計師提升專注力和集中力。




友邦洋紙願意提供紙材作印刷材料支持她的作品。書籍現以不同厚度和質感的紙材印刷完成,更有可能成為友邦洋紙的正式紙材樣板以展示他們的高品質紙品。在確認印刷所使用的紙材後,宏亞印務則提供有價值的市場營銷建議。



The time and content of the 「DesignXcel」 Exhibition Programme are subject to change without prior notice. Please visit the website or Facebook Page of Design Council of Hong Kong for the updated details. All exhibition activities will be conducted in Cantonese and on first-come-first-served basis.
Successful applicants should arrive at the venue no later than five minutes after the programme commences; otherwise, the reserved seats will be released to walk-in visitors waiting for admission.
《設計列陣》展覽活動時間及内容如有任何更改,恕不另行通知。更新詳情請瀏覽香港設計委員會網站或Facebook Page。所有展覽活動皆以粵語和先到先得方式進行。
已成功報名人士如於活動開始後五分鐘仍未進場,已預留名額將開放予即場人士替補。