Description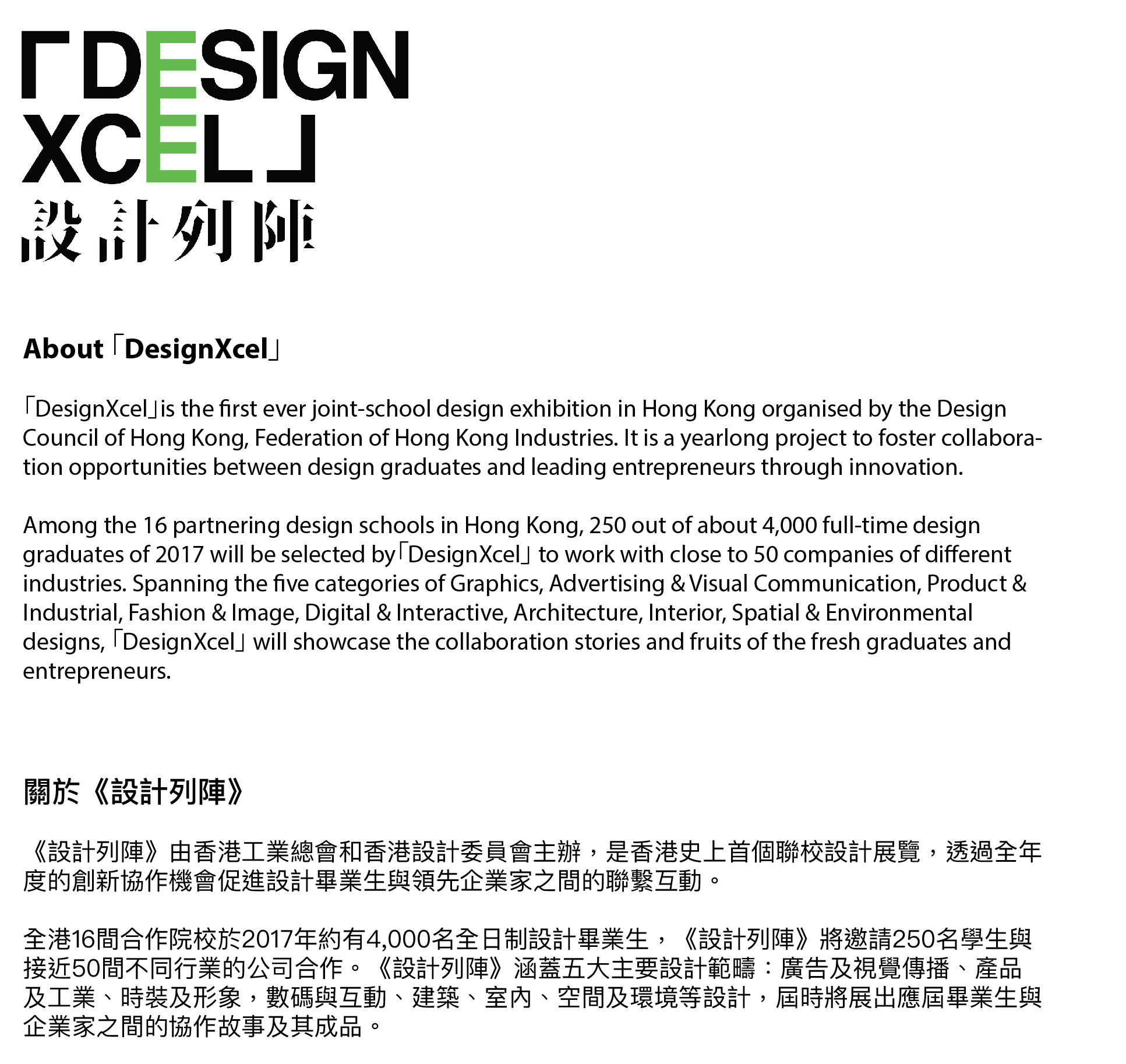 HS01 | KC x Re:echo Sharing 高俊 x 藝高分享會
Date 日期 | 5 Oct 2017 (Thu 星期四)
Time 時間 | 18:15 - 19:00 (45 mins 分鐘)
Location 地點 | Hong Kong Central Library Exhibition Gallery
香港中央圖書館展覽館
Language 語言 | Cantonese 粵語
Fee 費用 | Free 免費
No. of Pax 名額 | 70
Moderator 主持人 |
Felix Tai 戴嘉昌 | Co-Founder 共同創始人 | POMCH
Speaker 講者 |
Ko Chun KC 高俊 | Products Design 產品設計 | School of Design 設計學院 | Hong Kong Polytechnic University 香港理工大學

Angus Yau 邱季良 | Founder & CEO 創始人兼行政總裁 | Re:echo Asia Pacific Limited 藝高亞太有限公司






Content 內容 |
How to extend the final-year project of design graduates…
With the global advocation on work-life balance in recent years, among the many sports and pastimes, hiking has emerged as an economical and popular activity for the youngsters. Capitalising on this trend, the design graduate Ko Chun KC created "X-border", a modular backpack system that literally crosses the borders of work and leisure. The individual module add-ons to configure the "X-border "backpack for different purposes coincides perfectly with Re:echo's current development of a convenient baggage line for urban travelling.
To learn more about how KC found the like-minded local brand Re:echo for his final-year backpack project, its improvement and mass production, grab the chance to apply for seats!
畢業作品如何可以延續下去…
在近年熱烈鼓吹工作和生活平衡的風氣下,在形形色色的運動和消遣選擇中,行山被年輕一族視為經濟實惠的大熱之選。乘着這股熱潮,設計畢業生高俊(KC)創作了「X-border」,一個能將工作和閒暇無縫接合的模件化背囊系統。「X-border」作品以獨立模件組合成不同用途的背囊,此概念與Re:echo近年為都市遊走而設計的便利旅行袋系列不謀而合。
想了解KC如何為自己的畢業作品找到志同道合的本地品牌Re:echo合作,改良並量產他的背囊,把握報名機會。
The time and content of the 「DesignXcel」 Exhibition Programme are subject to change without prior notice. Please visit the website or Facebook Page of Design Council of Hong Kong for the updated details. All exhibition activities will be conducted in Cantonese and on first-come-first-served basis.
Successful applicants should arrive at the venue no later than five minutes after the programme commences; otherwise, the reserved seats will be released to walk-in visitors waiting for admission.
《設計列陣》展覽活動時間及内容如有任何更改,恕不另行通知。更新詳情請瀏覽香港設計委員會網站或Facebook Page。所有展覽活動皆以粵語和先到先得方式進行。
已成功報名人士如於活動開始後五分鐘仍未進場,已預留名額將開放予即場人士替補。