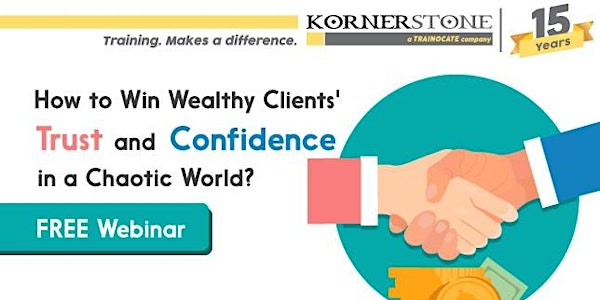 How to Win Wealthy Clients' Trust and Confidence in a Chaotic World
Join this webinar to learn how to win wealthy clients' trust and confidence in a chaotic world
About this event
Following the prosperous 2021, the investment world has become chaotic since the beginning of 2022. Investors have lost faith in almost everything. As a wealth manager, if you can regain your clients' trust and confidence, you win!
In this webinar, our speaker Mr. Jack Tsang (CWM Master Trainer since 2007) will share his insights on the above subject from the HOW angle:
• How come the investment world is getting so chaotic?
• How critical are clients' trust and confidence?
• How should CX (client experience) be reconstructed?
• How to expand client segments and product/service choices?
• How to combine human and technological elements in your business model?
• How can the CWM program make you a more successful wealth manager?
Event Details
Date: 21 Sep 2022 (Wed)
Time: 12:30 - 1:30pm
Language: Cantonese
Speaker: Mr. Jack Tsang, CWM® Master Trainer
• CWM®, FRM®, CFA®, CPA
• Master of Laws in Corporate and Financial Law
• Over 20 years risk management experiences with Big 4 accounting firm, regulatory bodies, commercial banks and fund house