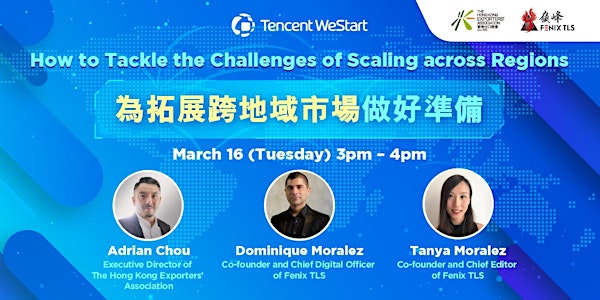 為拓展跨地域市場做好準備 How to Tackle the Challenges of Scaling across Regions
Find out how to ease new market entry with content localization and reach international consumers effectively
About this event
中小及初創企業努力尋求在跨地域市場拓展業務,以在不斷演變的營商環境中持續發展並保持競爭力。在發展跨地域市場時,企業要開拓不同渠道,從而有效地接觸國際買家和消費者,同時確保品牌訊息不受語言和文化差異影響。
為了協助中小及初創企業抓緊拓展跨地域市場的機遇,騰訊眾創空間(香港)與香港出口商會及嶺峰環球傳訊聯手,針對跨地域市場發展進行分享和拆解相關挑戰。
分享內容包括:
透過多元渠道接觸國際買家和消費者
以電子商務進行跨國銷售同時提升出口貿易競爭力
運用語言重塑及本地化的品牌和產品訊息,輕易有效地打進新市場
講者:
香港出口商會行政總監 周德基先生
嶺峰環球傳訊創辦人及數碼總監 苗偉立先生
嶺峰環球傳訊創辦人及總編輯 苗李淽芊女士
While SMEs and startups continue to adapt to the ever-evolving business environments, business leaders seek to scale their ventures across regions to grow and stay competitive. Being able to effectively reach international buyers and consumers come with many challenges. WeStart HK, in collaboration with The Hong Kong Exporters' Association and Fenix TLS, is hosting a live chat to help you tackle some of these issues.
The key discussion topics include:
The opportunities and challenges in reaching international consumers
Tips on how to leverage e-commerce in selling internationally
Localization & transcreation of product and brand material for effective market entry
Speakers:
Adrian Chou, Executive Director of The Hong Kong Exporters' Association
Dominique Moralez, Co-founder and Chief Digital Officer of Fenix TLS
Tanya Moralez, Co-founder and Chief Editor of Fenix TLS
About The Hong Kong Exporters' Association (HKEA) 關於香港出口商會
HKEA is a non-profit-making trade association focusing on export activities. It serve to liaise with governments and represent the interests of exporters, assist members to explore new market opportunities and to keep abreast of the latest market intelligence, help exporters gain exposure through product promotion and community activities, and promote HK export trade.
香港出口商會是個非牟利商會團體,致力為出口商發展香港成為貿易的中樞。香港出口商會不時與政府聯繫,並藉代表參與多個本地機構團體為香港經貿作出貢獻,同時協助會員拓展業務,掌握最新市場資訊;更透過網上產品展示為出口商提商曝光率,與及倡議不同項目以進一步推廣香港之出口貿易和提升競爭力。
About Fenix TLS 關於嶺峰環球傳訊
Founded in 2017, Fenix TLS is a Hong Kong based language tech solution provider, supporting multinational corporations with custom transcreation solutions in global expansion efforts and new market entry. Fenix TLS provides superior transcreation and communication services, which result in the expansion of market share and the acceleration of new client acquisition, to clients including Infinitus Health Products (a member of Lee Kum Kee Health Products Group), Crayola (Asia), and M7 Real Estate (a subsidiary of Sun Hung Kai).
嶺峰環球傳訊於2017年成立,總部位於香港,主要提供語言科技解決方案。嶺峰環球傳訊以客制化的語言重塑服務支援跨國企業作全球擴充及打入新市場。透過優越的語言重塑及傳訊服務,包括無限極健康產品(李錦記健康產品集團成員)、繪兒樂(亞洲)、M7 Real Estate(新鴻基旗下子公司)在內的客戶成功增加市場佔有率及加速吸納新客戶。