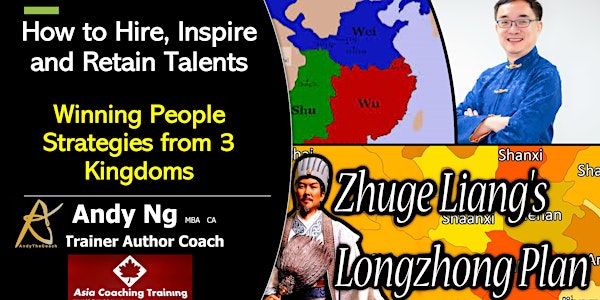 How to Hire, Inspire and Retain Talents: Winning Strategy from 3 Kingdoms
How to Hire, Inspire and Retain Talents with Winning People Strategy from the 3 Kingdoms
About this event
In the year 207, Liu Bei was down and out. Despite having 3 strong fighters, he achieved nothing after fighting for 20 years. He almost died a few times and lost his 2 wives and child too.
Yet inside Liu Bei's heart, he never forgets his calling. He wants to end the chaos in China and rid the nation of thieves like Cao Cao. Most importantly, to build a nation of dignity.
One man turned Liu Bei from Zero to Emperor in 14 years. Liu Bei paid 3 visits to Zhuge Liang's Longzhong cottage to seek his help. Known as the Longzhong Plan, Zhuge Liang outlined the winning strategy for Liu Bei to fulfill his vision of restoring the glory of the Han Empire. Step by step, he laid out plans for Liu Bei to build a nation base on the values of Ren Yi.
In 221, Liu Bei was crowned the Emperor of the Shu Han Empire, and that lasted 43 years. Shu kingdom was the most peaceful with the least in-fighting among the 3 kingdoms.
Date: Monday 15 Aug 8 pm to 9 pm
Venue: Online at Zoom. Zoom details to give you when you register
Fee: FREE (value at $294)
1. How Liu Bei's calling turned him into a magnet for talents
2. What length would you go to seek top talent like Zhuge Liang?
3. Longzhong Plan as applied in Hire, Inspire & Retain Talents
4. Zhuge Liang's 12 Strategies for Hiring, Inspire and Retain Talents
5. The Ultimate Strategy: Get Soul Team and How
6. Your case study on the application
Trainer: Andy Ng (CA, MBA), Asia Coaching Training
(Trainer for Art of War & 3 Kingdoms Wisdom for Singapore Police Force (3 rounds), SUSS, ITE, Singapore Customs etc)
Limit to 31 seats. To book, message '1' to Andy at +65 93672286 or click www.asiatrainers.org/longzhong
Our Author Trainer Coach Andy Ng has an MBA from UK. Based in Singapore, Andy is bilingual (can write articles in Chinese) and has, since the age of 5, been involved in China's rich history and culture. Since 1986 Andy's first visit into China, he has cultivated a strong in-depth knowledge about China covering 4,000 years from the pre-historic times to present day.
Andy has delivered countless lectures and training seminars using Sinology and strategies from Sun Tzu Art of War, 36 Stratagems, Yijing and 3 Kingdoms. The recent corporations trained include Singapore Police Force, Singapore University of Social Sciences, Institute of Technical Education, and Singapore Tripartite Alliance. If you too want to plan to succeed and succeed in your plans and turn from losses into profits, invest in this world's first and only 1 hour English course on 3 Kingdoms: From Zero to Emperor. You'll be handsomely rewarded many times over, for this life and beyond.
For Who to Attend:
Managers, leaders and directors that want to achieve breakthroughs in their career this year and beyond
Professionals, executives, and working people that want to harness the power of winning strategies
Students and retired people that want to be enriched the 3 Kingdoms stories
Anyone that wants to know Chinese culture and history in the shortest period of time