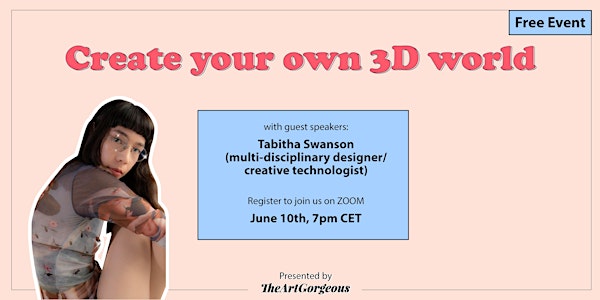 How to create your own 3D world!
CREATE YOUR OWN 3D WORLD with the amazing Tabitha Swanson
About this event
We're at TheArtGorgeous HOUSE and getting together with the stellar Tabitha Swanson to learn about her experience as a Designer, Creative Director, Teacher and everything in-between.
During this session, she will also lead a workshop on 3D world-building and show you how to make your very own! Together, we will use the software Blender, which is a powerful and open-source tool used to create 3D work, and everyone in the class will get a package of materials and custom sculpted objects from Tabitha to create their own scene.
She created a bunch of custom assets and put them in a Blender file alongside some HDRIs for the class. You will find the download link with the links ( alongside zoom link ;)
TABITHA SWANSON
MULTI-DISCIPLINARY DESIGNER / CREATIVE DIRECTION / 3D/UX/UI / FILTERS / TEACHER / CREATIVE TECHNOLOGIST
Tabitha Swanson appears as a specimen of an online race. A multi-disciplinary designer and creative technologist using 3D rendering, AR face filters and sometimes synthetic makeup on her own body, she offers the vision of a migrant from a virtual world.
Lecturer – Design Akademie Berlin
@tabithaswanson_
https://thedesignkids.org/interviews/tabitha-swanson/