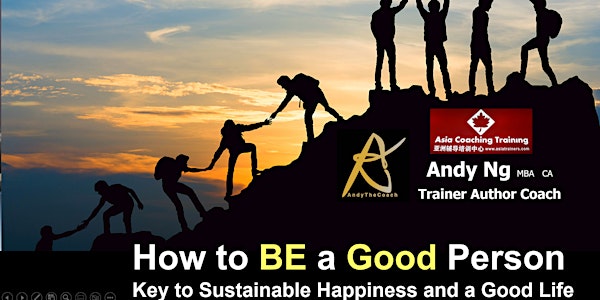 HOW TO BE A GOOD PERSON (World's 1st & Only)
How you can Unlock the Goodness in Yourself and Others to achieve Sustainable Success and Happiness
Refund Policy
Contact the organizer to request a refund.
About this event
How to Be a Good Person (Zoom)
Unlock the Goodness in Yourself and Others to Achieve Sustainable Success and Life's Happiness
Limit to 20 seats for effective learning
Search the entire world and it is hard to find a course on How to Be a Good Person. There is one book on Amazon of the same title, but that's it. It seems that the academic and training world is concerned with equipping people with skills and knowledge and takes being a good person for granted.
Truth be told, we know that unless people are good, the world will not be a better place. Many conflicts, mis-communication, teamwork breakdowns, insubordination, management, staff discipline issues, business challenges and marital and family issues can be reduced or eliminated totally when people are good and behave well. For example, how many times have you been dragged down by office politics, get cheated by unscrupulous salespeople, misled by influencers, and got into disputes, all because people are not good?
Think of the possibilities and countless tangible and intangible benefits when people are good people. The benefits multiply by the day. When people are good and behave good, you feel good. Such goodness spreads like fire. Soon we feel good and happy.
There's a good person inside of you and others. You just need to unlock it. Stop wondering are you a good person, start being a good person. This course will open your eyes, widen your ears and open your chest to what is inner peace and happiness. Invest 1-day in this course and you'll be rewarded in years to come.
Learning Objectives
After attending this course, you'll learn strategies and practical tools and techniques to enhance the 'goodness' in you.
You will also know how to avoid being a bad person
Through live cases and sharing by different people from all walks of life, you'll know the key differences between good and bad persons
With this, you can also unlock the goodness in others that can impact all aspects of your life positively from the professional to the personal.
Power-packed Course Contents:
1. Myths and Truths of a Good Person
2. Benefits of Being a Good Person
3. Losing out, doing your role, handling Temptations
4. Art of Charity Service
5. Project good person: real or fake?
6. How to have Appreciative communication
7. Use your Hearts to lead your team
8. The Yijing way of ever-changing good and not-good
9. Ultimate of Good Person: Power of Positive Energy and how to have it instantly
Who should attend?
• People that want to Be Happy today and every day
• People looking for answers to life's problems
• Anyone that wants to be inspired and motivated to be a Good Person
Methodology
This workshop is unusual in that the course contents are driven by the 12 interviews with12 people from 3 countries. The course is designed to be fun, interactive and create 'Ah Ha' moments to let the participants come up with countless ways to be a good person.
I use games, group discussions, and watching of video clips to make the lesson interesting. There is not a dull moment.
Trainer's Profile
Speaker, Trainer, Author, Coach and Presenter Andy Ng combines 36 years of work experience, all with the passion to help transform lives with training and coaching
Andy graduates from National University of Singapore with an Honours Degree in Accountancy (Bacc) in 1988. He also has a MBA from Heroit-Watt University of Scotland, United Kingdom, in the year 2000.
From 1997 to 2000, Andy was the Director of Finance, Human Resource and Administration of the world's 5th largest network equipment manufacturer, Allied Telesis (Asia) Pte Ltd. Andy also has experience in management consulting at KPMG Consulting, audit experience in Deloitte & Touche and in the financial industry in JP Morgan Chase and DBS Vickers Securities.
From May 2001, Andy left his corporate job to become full-time in training and coaching. He was the Singapore licensee of ActonCOACH, the world's number one business coaching team, in the period 2001-2006. Andy went on to establish his own training and coaching firm Asia Coaching Training from 2006 till now.
The training topics that Andy specialised in include Finance, Leadership, Management, Employee Effectiveness, WeChat and Personal Development. The top 10 most popular course of Andy include How to Be a Better Manager, Sun Tzu Art of War, Financial Intelligence, Cash Flow Success, High Value Employees, Take Charge and Lead, 3 Kingdoms Strategies, 35 Stratagems, Communicate with Power and Successful Sales Strategies.
The few hundred companies that have engaged Andy for in-house training include Singtel, Singapore Power, OCBC Bank, Singapore Polytechnic, Ngee Ann Polytechnic, Siemens, Infineon, NTU Alumni, CPA Australia, Singapore University of Technology and Design, AIA, and many medium and small enterprises, plus non-profit organizations including Lions Club of Singapore, The Salvation Army and Guan Yin Temple at Waterloo Street.
Andy's training style is always fun, interactive, light-hearted and use lots of videos to illustrate the concepts. He also incorporate games and exercises like lifting people with just 2 fingers, LEVERAGE Board Game, Cash Flow board game, Give it All Dance, Karaoke singing and many others.
At home, Andy has 3 grown-up children. His wife is the Senior HR Manager at YTL Power Seraya and Geneco Electricity. In the community, Andy has been a member of Lions Club of Singapore Beverly Hills since 2004, and has served as Club President, and District cabinet officer over the years. Andy is also a committee member of the Association of Professional Trainers (APTS). He also volunteered in Kwong Wai Siew Hospital, Lions Befrienders, Lions Home for the Elders and other organizations as and when needed.