深宵 Hostel 是一場由 @glotravel 與 @anywhere 主辦的特別企劃,希望設計一次特別的 hostel 體驗,為在疫情中被困的各位,重燃旅行的感覺,重新發掘對世界的好奇,重拾和陌生人交流的那份新鮮。

Anywhere 的使命是為未來的工作者創造可能性,增加
About this event
夜遊深水埗:
尋回旅行的即興與驚喜,特意在深宵出發到 hostel 附近的深水埗區,細說這區故事之餘,帶大家探索這一區日頭較少見的一面。幾位領隊對黑夜散步特別有感覺,會告訴大家黑夜的美好。
深宵出發: Sampson Wong / Charles Lai / 鄧小樺 / Rubio@GLO Travel
**行程開始時間為晚上十一時,需時大概一個半小時左右。
請注意:如想更深回味旅遊的感覺,可選擇參與「Hostel 住宿體驗」,除了「夜遊深水埗」外,活動亦包括一晚hostel住宿連土耳其早餐以及和「深宵沙發廳」體驗。!
此活動由旅行社牌照號碼:354430 舉辦
如你已報名「Hostel 住宿體驗」便不用報名此活動;住宿體驗套票已包含「深宵沙發廳」及「夜遊深水埗」。
請注意:
如果遇到天氣不穩定的情況,例如熱帶氣旋警告信號或暴雨警告信號,我們會考慮延期舉行活動。參加者會以電子郵件收到通知。
若天文台發出的熱帶氣旋警告信號或暴雨警告信號在以下時間仍然持續生效:
-深宵Hostel Check-in 時間前兩小時即17:00 (八號風球/紅色暴雨延期)
-深宵沙發廳前兩小時即19:00 (八號風球/紅色暴雨延期)
-夜遊深水埗前兩小時即21:00 (有暴雨警告即延期舉行)
活動延期將擇日再舉行,時間會以電子郵件另行通知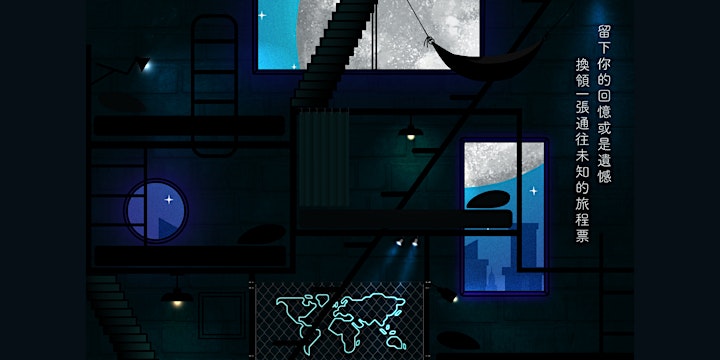 深宵Hostel:
關於旅行,你有留低過什麼回憶或遺憾嗎?
每個喜歡旅行的人,都曾經興奮地無限想像旅程上的日與夜。
而每座Hostel,就正正是每段回憶的交接地。
Hostel 令人著迷的原因在於,即使旅遊書如何描述,不親身到埗,你是無法看見我們的全貌 ; 未踏入房門,你不會知道同房是誰,不知道睡在上下格床的人來自那個國家,做什麼職業,為什麼來到這個城市,下一站又去那裹。
Hostel本身,就正正是一個踏入未知、期待驚喜、擁抱失望,反思生活的旅程。而踏入深宵的 Hostel,更是無數旅者認識異國世界的開端。在這個黑幕降臨下,地圖線好似變得不存在。在這個獨特的時空下,我們都是一體的,說著同一種語言。
深宵 Hostel 是一場特別企劃,
一眾旅人希望設計一次特別的 hostel 體驗,
為在疫情中被困的各位,
重燃旅行的感覺,重新發掘對世界的好奇,重拾和陌生人交流的那份新鮮。
我們賣的不止是床位,而是獨一無二的經歷,一份久違的慰藉。
留下你的回憶或是遺憾,換領一張通往未知的旅程票。
**價錢已包含每人一份@travelpop 旅行手信Gift Box以及 @lonely Paisley土耳其早餐一份。
Midnight Hostel:
Do you miss the time when you could travel around the world? Do you miss the feeling of uncertainty and excitement brought by visiting a new place?
We know you all do, which is why we are bringing you the Midnight Hostel. We aim to reignite the memories, the curiosity, the hopefulness of travelling.
What makes a hostel so fascinating is that you will never know what to expect until the moment you arrive, and that is why every hostel is an adventure; it could always surprise you.
Exploring the world once again with us.
Leave behind your travel regrets; Start a new adventure.