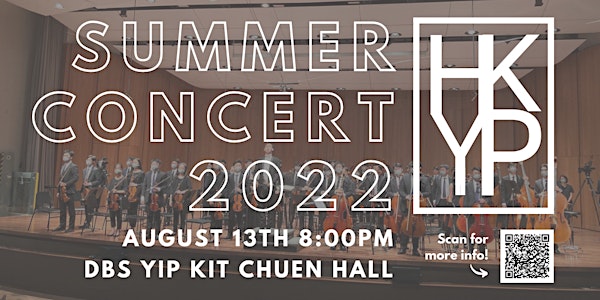 Hong Kong Youth Philharmonia Summer Concert 2022 夏季音樂會
Hong Kong Youth Philharmonia sincerely invites you to our summer concert on August 13th 2022 at 8pm in the DBS Yip Kit Chuen Concert Hall.
When and where
Location
Diocesan Boys' School Yip Kit Chuen Concert Hall 131 Argyle Street Hong Kong, KOW Hong Kong
About this event
At the peak of the Covid-19 shutdown, a group of passionate students decided that nothing would stop them from music-making. Students Him Chan, Daria Chung, Ivy Kan, Enoch Li, Stone Tung, and Rachel Wong have created a youth orchestra, allowing students from different secondary schools and colleges to join together to shed some light during these gloomy times. This year, we are glad to have Kingston Chan, Pasu Ho, Hiu Ching Li, and Isaac Yan join us as committee members.
The Hong Kong Youth Philharmonia is a newly established orchestra consisting of students aged 21 or under. Our current players study in schools all around the world, including the UK, USA and Europe. Our aim is to allow the younger generation in this industry to express their love and passion for music, as well as to share our happiness with you.
Following our successful inaugural concert, HKYP proudly presents our second concert: the Summer Concert 2022! Our concert will be held on the 13th of August, 2022 at 8:00 pm in the Diocesan Boys' School Yip Kit Chuen Concert Hall. We will be performing Wagner's Tannhäuser: Overture, Touchin's Sinfonietta No. 4, and Tchaikovsky's Symphony No. 4. Thank you for your support and we hope to see you there!
* You may choose to receive a complimentary ticket in the VIP zone per HKD 300 worth of donations!
(Limited to 20 VIP tickets in total for distribution to all donors.)
Find out more on our website: https://www.hongkongyouthphilharmonia.com/ (or scan the QR code on our banner!)
-
在疫情肆虐之下,一班熱愛音樂的學生不希望在音樂路上留下一篇空白,因而組成一隊青年樂團。陳諾謙 Him、鍾安澄 Daria、簡翠希 Ivy、李睿正 Enoch、董書廷 Stone、黃蔚晴 Rachel 六位來自不同的中學及大學的學生,希望自己所創立的樂團能使熱愛音樂的學生不被疫情籠罩了自己的夢想,能夠繼續在台上發光發熱。今年我們很興幸有四位新的委員加入:陳國經 Kingston、何懿恆 Pasu、李曉晴 Hiu Ching、​甄奕山 Isaac,參與我們樂團的營運事務。
Hong Kong Youth Philharmonia 是一隊完全由學生所成立和主導的樂團,由二十一歲或以下的成員組成。當中,多位樂隊成員正就讀世界各地,包括英、美、歐洲多地的音樂學院。樂團宗旨在於讓年輕一代的音樂人能夠抒發並與大家分享自己對音樂的喜愛及熱情。
承接去年備受大眾支持的創團音樂會,時隔一年,我們很高興向大家宣佈 —— HKYP即將在8月13日晚上8時於拔萃男書院葉傑全音樂廳舉行第二次的夏季音樂會!屆時將會為大家送上華格納的《唐豪瑟》:序曲、杜程的第四小交響曲,以及柴可夫斯基的第四交響曲。感謝各位的支持,希望能在音樂會見到各位!
* 閣下可於捐款後選擇獲取位於貴賓區的門票,每港幣300元的捐款將可獲得一張!
(發放給所有捐贈者的貴賓區門票只限一共20張。)
閣下可透過瀏覽我們的網站了解更多資訊:https://www.hongkongyouthphilharmonia.com/(或掃描海報上的二維碼!)
Refund Policy
Tickets sold are non-returnable. If the concert is cancelled due to changes in government policies against COVID-19 or severe weather conditions on the day (i.e. when typhoon signal no. 8 or above; or a black rainstorm signal is hoisted 3 hours before the concert begins), you may apply for a full refund via Eventbrite.
門票一經售出,不設退票退款。如音樂會因政府防疫政策的改變,或於音樂會開始前三小時仍受極端氣候影響(即天文台正懸掛八號或以上熱帶氣旋警告信號、黑色暴雨警告信號)而需要取消,閣下可於Eventbrite申請全款退款。
COVID-19 Precautionary Measures
Kindly note that all audiences will be asked to check their body temperatures upon entry to the Auditorium Building, scan the LeaveHomeSafe venue QR code outside the entrance of Yip Kit Chuen Concert Hall with their mobile app, and submit the Health Declaration Form provided by the Diocesan Boys' School including the their names, contact numbers, and the date and time of visit. All audiences must fulfil the Vaccine Pass requirements and carry an electronic or paper copy of either their COVID-19 vaccination record, COVID-19 Recovery Record, or COVID-19 Vaccination Medical Exemption Certificate, and use the QR Code Verification Scanner in the Auditorium to scan the QR code of the vaccination record, Recovery Record, or Exemption Certificate as part of the precautionary measures against COVID-19.
Thank you for your cooperation.
請留意:所有觀眾必須在進入音樂廳前量度體溫、掃描安心出行二維碼,以及提交由拔萃男書院提供的健康申報表(包括姓名、聯絡電話號碼、到訪的日期和時間)。入場觀眾亦須符合「疫苗通行證」的要求,並攜帶其電子版或紙本的新冠疫苗接種紀錄、康復紀錄,或醫學豁免證明書,由音樂廳裏的二維碼認證掃瞄器掃描其接種紀錄、康復紀錄,或醫學豁免證明書上的二維碼。
謝謝合作。