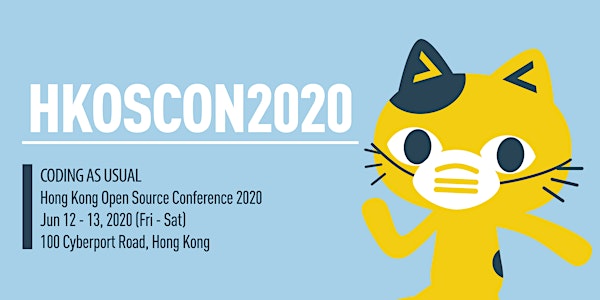 Hong Kong Open Source Conference 2020 (香港開源年會2020)
HONG KONG OPEN SOURCE CONFERENCE 2020
When and where
Location
Cyberport 3 cyberport 3 Hong Kong, HKI Hong Kong
About this event
**If you got your ticket but do not receive the Online Conference Manual, please contact us via our Facebook Page Message Box at https://www.facebook.com/hkoscon/**
Before booking your tickets:
We welcome all partners and friends who are interested in Open Source to come and join us at HKOSCon 2020.
Please ensure that you've read and understand the Safety Measures Dealing With COVID-19 Pandemic on our website.
Once you booked your ticket, you are agreed and willing to comply with our Code of Conduct.
________________________________
Hong Kong Open Source Conference ( HKOSCon ) is one of the major Open Source conferences in Hong Kong since its first commercement in 2013, bringing an international crowd of developers, contributors, users, IT manager, students and public. The conference aims to promote the open source development into communities and to encourage its application in the industry.
With different annual themes, related open source sectors are invited to share its open source development and trends of the IT industry and community. The annual celebration is nonetheless supported by the tertiary education sectors, fans and sponsors. Other than talks, speeches & lightning talks, HKOSCon has expanded its scope into workshops, non-conferences, gathering and promotional booths.
The reasons that you have to join HKOSCon:
To learn about the latest development in Open Source
Get to attend elite talks from speakers worldwide
To meet friends and expand your personal network
Discover Hong Kong
Sponsors
Microsoft
Red Hat
MySQL
JetBrains
Cyberport
Happeas
HackMD
Agenda
https://hkoscon.org/2020/timetable/
Online Event
Refund Policy
No refund for the sold ticket.
Privacy Statement
https://info.hkoscon.org/privacy/
Social Media
Facebook Page: https://www.facebook.com/hkoscon
Twitter: https://twitter.com/hkoscon
LinkedIn: https://www.linkedin.com/company/hkoscon
YouTube: https://www.youtube.com/hkoscon
IG: http://instagram.com/kottis.hk
Email: conference@opensource.hk