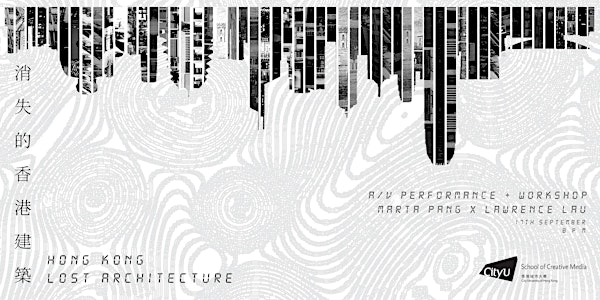 Hong Kong Lost Architecture by Marta Pang and Lawrence Lau + Workshop
An audio-visual live performance by new media/digital artist Marta PANG and composer/sound/media/performance artist Lawrence LAU
When and where
Location
Run Run Shaw Creative Media Centre 18 Tat Hong Avenue Kowloon Tong, KOW Hong Kong
About this event
Inspiration
Hong Kong has been always changing and developing. Throughout the years, many of the iconic buildings remain only in photographs and archives, disappearing without a trace in our lives. Through the iconic images of the buildings that no longer exist in Hong Kong, a look back at the city in a 30-minute journey to bring people back to the old Hong Kong.
Read more about the Artists
Marta Pang - New Media/ Digital Artist
https://www.instagram.com/pang.marta/
Lawrence Lau - Music | Sound | Media | Performance
https://www.instagram.com/hiukonglau/
Date & Time:
Saturday, 17th September 2022 | 20:00 - 21:30 - Performance + Workshop
30 mins Audiovisual Performance + 45mins Post-performance Workshop about music and live visual performance with two artists
Venue:
Multimedia Theatre (M1060), L1, Run Run Shaw Creative Media Centre, 18 Tat Hong Avenue, Kowloon Tong, Hong Kong.
Presented by the School of Creative Media, City University of Hong Kong
IMPORTANT NOTES:
1. No standard seating.
2. Free Admission on a first-come, first-served basis. Advance reservation is required before 16 September 2022, 5pm.
3. One reservation gets one E-ticket only, regardless of age. Using same email address for more than one reservation is not accepted.
4. Late-comers will be admitted only if there is vacant.
5. Successful register will receive an email enclosed with a QR code from CityU's Electronic Visitor Registration System. Please present that QR code to the security guard at CMC entrance for your entry.
6. All persons attending Performance, except those exempted, are required to comply with the requirements under the Prevention and Control of Disease Ordinance (Cap.599) including: scan the "LeaveHomeSafe" QR code and provide valid Vaccine Pass before being allowed to enter the venue. Please arrive earlier to avoid delaying your participation as longer time is required for such registration.
7. The information you provided will be used for your entry to the performance and workshop. Please refer to the Personal Collection Statement on the webpage of CityU's Visitor Registration System: https://www.cityu.edu.hk/fmo/download/Personal%20Information%20Collection%20Statement_VRS.pdf
8. The Presenter reserves the right to amend the requirements and refuses any person from entering the venue.