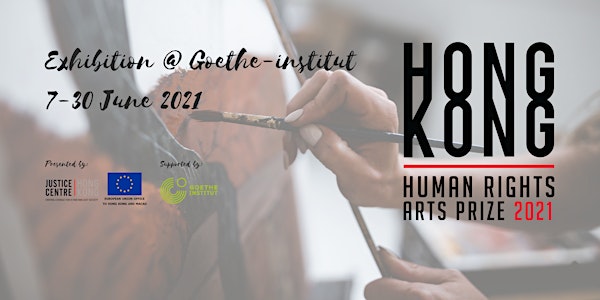 Hong Kong Human Rights Arts Prize - Viewing & Auction Night
Please join Justice Centre's team at the viewing and auction of shortlisted artworks from the 2021 Hong Kong Human Rights Arts Prize.
When and where
Location
Goethe-Institut Hongkong 2 Harbour Road 13F & 14F, Hong Kong Arts Centre, 2 Harbour Rd Hong Kong, HKI Hong Kong
Refund Policy
Contact the organiser to request a refund.
About this event
Established in 2013 by Justice Centre Hong Kong, the Hong Kong Human Rights Arts Prize (HKHRAP) has played a pivotal role in discovering and encouraging Hong Kong artists to explore the state of human rights and in turn, has inspired the civic imagination. This year, artists were encouraged to explore the theme 'Shared Future' through topics including 'life for refugees in Hong Kong' or 'visions of an inclusive society'.
Listed as one of the top 10 Hong Kong art events to visit by Tatler Hong Kong, this year's edition promises to be better than ever!
On June 24th, we will be conducting a live auction of the award-winning pieces, auctioned by Georgie Hilton of Christie's. An online auction of remaining shortlisted works will also take place.
33 amazing shortlisted artworks from artists hailing from a variety of backgrounds and communities will be on display. All proceeds go directly to support future Arts Prize events and enable Justice Centre to continue helping refugees, asylum seekers and other forced migrants in Hong Kong.
Please note that unfortunately due to COVID-19 related restrictions we are not permitted to serve food or drink at the event.
Co-hosted by the European Union Office of Hong Kong and Macao, supported by the Goethe-Institut Hong Kong.
Auction Details:
- Doors open 6pm, Auction starts 6.45
- There will be a raffle draw where winners will have the chance to win a shortlisted artwork!
- Limited Edition Prints from a selection of the shortlisted works will also be available for purchase.
- Watch and follow our social media accounts as we give sneak peeks of the items so you can plan your bidding!
- Preview all works here from 8th June: https://givergy.hk/justicecentre
Follow Hong Kong Human Rights Arts Prize :
Instagram: @hkhumanrightsartsprize
Facebook: @HongKongHumanRightsArtsPrize
Full list of shortlisted artworks:
Youth Entry:
1.     Trinity Ro, Tears of a Refugee
2.     Cecily Houghton, The photograph was taken in Mong Kok
3.     Charmaine Wan, Colour of Love
4. Simran Narwani, Working lives
5.     Chester Leung, SHARED FUTURE?
InkluVision Award
1.     June Wong Siu Ling, The Waves
2.     Kasper Forest,  Immediate Sexuality, My Insight
3.     Jamela Law, A Broken Vessel cannot Hold
4. Wienc Wong, Samp, Hong Kong, 2020
5.     Yip Kin Bon, Do Not Cross The Line
6.     Amrita Tandon, A Helping Hand
7.     Monique Yim, The Daily Norm
Adult Entry/Shared Future
1.     Shawn Tang Pak Hin, Departure to Nowhere, Somewhere
2.     Terence Li, Green Walls
3.     Jiaming Liao, We Shall Be One
4.     Tong Kit Yee, A Ray of Light 2016 – 2021
5.     Yip Kin Bon, If You Miss Home
6.     Wiency Wong, A Traveler Review of Mong Kok District (free copies)
7.     Cheung Yick Kan, Wish You Have a Good Day
8.     Alexander Treves, Towards Leviathan, Together
9.     Keith Cheng, A Stone's Throw
10.   Rebecca Hon Ngan Ting, Urban Variations No.1
11.   Nicole Au Yeung, The Karma and The Hands
12.   Ophelia Jacarini, Look At Me
13.   May Sum, You and Me
14.   Ng Kai Fung, The Monuments 
15.   Eric Fung Yee Lick, Time to Wake Up
16.   Wendy Kwan Hiu Wah, Aside, No More
17.   Cody Wong, Hong Kong Spirit
18.   Ling Chung Wah, 201 Sai Yee Road,Mong Kok,Hong Kong
19.   Kyra Campbell, Text Me When You Get Home
20.   Nadeeshani Ranagna, I Am a Mother Who Never Give Up
21. Marissa Reyes Beckmann, The Invisible Filter of Empathy