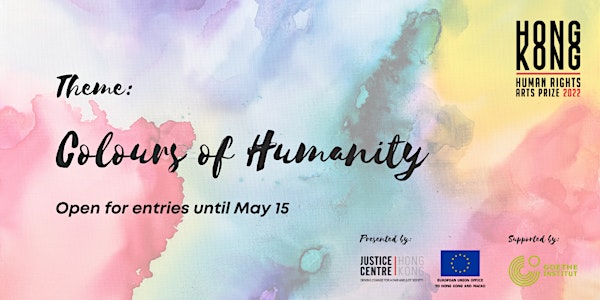 Hong Kong Human Rights Arts Prize 2022 Opens for Entries
Hong Kong Human Rights Arts Prize 2022 Opens for Entries
Refund Policy
Contact the organiser to request a refund.
About this event
HONG KONG – The Hong Kong Human Rights Arts Prize 2022 'Colours of Humanity' is now open for entries until 15 May 2022.
Now in its eighth edition, this prize is presented by Justice Centre Hong Kong and the European Union Office to Hong Kong and Macao, and supported by the Goethe-Institut Hongkong. Shortlisted artworks will be showcased in an exhibition open in-person to the public at the Goethe-Institut Hongkong from late June 2022 (subject to local health regulations), and through an immersive 360 degree online walkthrough experience.
In addition to the recurrent annual theme of Refugee and Migrant Rights, this year's additional theme focuses on LGBTIQ+ rights and inclusivity. We are also excited to announce the second annual InkluVision Award, supported by Goethe-Institut Hongkong, for an artwork that advocates an inclusive society without limitations and defines inspiring visions. A shortlist of artworks will be announced in May and winners will be announced at the opening of the exhibition. This year, the prize particularly invites artists from maringalised or minority communities to enter the competition, seeking to make the exhibition truly representative of society. Submissions by art therapy pratitioners are also highly welcome.
With 'Colours of Humanity', we once again celebrate the outpouring of strength, resilience and hope we see in not just refugees in Hong Kong amidst the fifth-wave COVID-19 outbreak, but also in those fleeing Ukraine and elsewhere. To this end, the Justice Centre Hong Kong Choice Award will be awarded to an artwork which best communicates Justice Centre's vision and mission of challenging unfairness and injustice for refugees and vulnerable migrants in Hong Kong.
"The Arts Prize was set up in 2013 and since then has worked to help Hong Kong recognise different perspectives. We hope that all sectors of Hong Kong society will submit their work to reflect their dreams and hopes for the future. We encourage co-creative collaborative community through respect for minority sectors of our society," says Raquel Amador, founder and Board member of Justice Centre Hong Kong.
The annual exhibition is one of the few events in the city that honours the power of art as a catalyst for social change and the defence of human dignity. In addition to the Grand Prize, the InkluVision Award, and the Justice Centre Hong Kong Choice Award, this year's prize continues to recognise exceptional artistic finesse through two runners-up and the separately judged student category, encouraging young artists to showcase their talents. Artists may now submit their artworks through the event portal (https://justicecentrehkartsprize2022.artcall.org/) until 5pm on 15 May 2022.
'Colours of Humanity' continues to engage all sectors of the community and works with artists, institutions, media, galleries and corporates to raise funds for the non-profit work of Justice Centre Hong Kong. Established as the Hong Kong Refugee Advice Centre in 2007, Justice Centre Hong Kong provides assistance to refugees, asylum seekers and other forced migrants in our city, with the ultimate aim of helping to realise a fair, just, and equitable Hong Kong.
###
Social Media
@hkhumanrightsartsprize (Instagram)
@JusticeCentreHongKong (Facebook)
@justicecentrehk (Instagram)