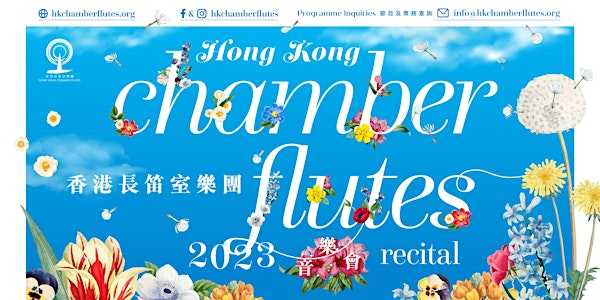 Hong Kong Chamber Flutes 2023 Recital | 香港長笛室樂團 2023 音樂會
Hong Kong Chamber Flutes 2023 Recital | 香港長笛室樂團 2023 音樂會
By Hong Kong Chamber Flutes - Zicket
Date and time
Sat, 1 Apr 2023 20:00 - 22:00 HKT
Location
China Congregational Church 6/F Recital Theatre 中華基督教會公理堂 6/F 演奏廳 6/F Recital Theatre 119 Leighton Road Hong Kong, HKI Hong Kong
Refund Policy
Contact the organiser to request a refund.
About this event
Hong Kong Chamber Flutes 2023 Recital | 香港長笛室樂團 2023 音樂會
經過三年的疫情,香港長笛室樂團將再次舉辦實體音樂會!經過長時間的等待和努力,我們終於可以再次與觀眾見面,為大家帶來最好的音樂體驗。
這次音樂會將呈現豐富多彩的曲目,包括一些經典的古典樂曲及音樂劇「夢斷西城」中的著名曲目,讓觀眾可以在經典音樂中從新感受到耳目一新的長笛樂團演繹。這次音樂會不僅僅是一個音樂演出,更是一個文化交流的平台。我們歡迎各界人士和音樂愛好者前來觀賞,共同分享音樂的魅力。讓我們一起緬懷過去,展望未來,一起創造美好的音樂時刻。我們邀請您和您的家人、朋友一起來參加這場難得的音樂會!
Date 日期: 1 April, 2023
Time 時間: 8PM
Venue 地點: China Congregational Church 6/F Recital Theatre 中華基督教會公理堂 6/F 演奏廳
Address 地址: 119 Leighton Road, Causeway Bay, Hong Kong 香港銅鑼灣禮頓道 119 號
Price 票價: $180
Programme Inquiries 節目及票務查詢:info@hongkongchamberflutes.org
Programme includes 節目包括:
Leonard BERNSTEIN - Suite from West Side Story
Alexander BORODIN - 'Polovtsian Dances' from Prince Igor
Gabriel FAURE - Cantique de Jean Racine
Sigfrid KARG-ELERT - Praise The Lord with Flutes
John RUTTER - The Music's Always There With You
Antonio VIVALDI - The Four Seasons (in 5 Minutes)
and more…
FB/IG: hkchamberflutes
WWW: hkchamberflutes.org
We are thrilled to announce that the Hong Kong Flute Chamber Orchestra will be holding its first concert this year since before the pandemic! After a long wait and hard work, we are finally able to meet our audience again and bring them the best musical experience.
This concert will feature some classic repertoires and selections from the musical "West Side Story", allowing the audience to enjoy the classics with the interpretations of a flute choir. This concert is not just a musical performance, but also a platform for cultural exchange. We welcome people from all walks of life and music lovers to come and witness this fantastic event. Let's remember the past, look forward to the future, and create beautiful musical moments together. We invite you, your family, and your friends to join us at this rare music feast! We look forward to your presence!