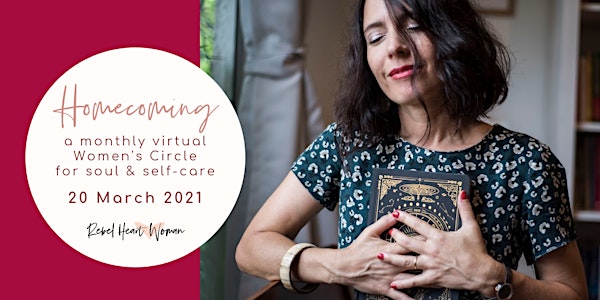 Homecoming Women's Circle (Spring Equinox)
Merge with the playful and dynamic energy of Spring and feel into what's ready to emerge in your life with the arrival of this next season.
About this event
Corinne Konrad Calder from Rebel Heart Woman invites you to join her Homecoming Women's Circle. A safe, confidential, and supportive space to become intimate with yourself , and to awaken your wisdom and power.
WHY A HOMECOMING WOMEN'S CIRCLE?
This life is both, beautiful and challenging and we are invited many times to adapt to new circumstance, or to change 'our ways'.
My wish is that together, we navigate through life's ups and downs from a place of deep intimacy with ourselves, guided by our inner knowing and the feminine.
By coming home to yourself - your body, mind, heart, and HER - you connect with your powerful centre within.
Living life from this place in a world that tries to distract you from your centre again and again, is a quiet act of rebellion.
THEME: Spring Equinox
During this Homecoming Circle we will take time to welcome Spring within and around us.
What ideas and visions have you conceived and gestated throughout Winter?
What do you desire to bring into being?
What's ready to emerge in Spring?
Merging with the playful and dynamic energy of Spring, you will get the chance to feel into these questions, giving yourself the gift of awareness and intention.
All of it helping you to move into this next season aligned with your heartfelt desires.
WHAT TO EXPECT FROM THE VIRTUAL HOMECOMING CIRCLE?
You will be guided through different practices such as:
Breath awareness
Intuitive movement
Gentle touch
Journaling
Group sharing
WHAT ARE THE BENEFITS OF JOINING?
Come home to yourself and the wisdom of the feminine
Move into Spring with intention, aligned with your heartfelt desires
Connect with a supportive group of heart-led women who inspire each other
Relax, soften and rejuvenate after a period of stress
Experience a life lived in integrity and fulfilment
HOW DOES IT WORK?
You will join this intimate and supportive online space via Zoom where you'll receive guidance from myself and from the group collectively.
Before we begin, please settle in a quiet undisturbed space with soft light. If you wish, add some candles, fresh flowers and a relaxing scent – you can make this as small or big as you want!
Zoom Link Will Be Sent 24 hours before the event.
WHAT TO BRING & WEAR:
• A comfortable, private space in your home
• Journal & pen
• Yoga matt, blanket, pillow
• Water bottle/cup of tea
• Comfortable clothing in which you can move in
DETAILS
Investment: HKD 120 / AU$ 21 / EUR 13 / CHF 14 (please note that you will be charged in HKD)
Time: Hong Kong 4pm, Europe 9am, UK 8am, Sydney/Melbourne 7pm
Duration: 2h (with the last 30 minutes optional for those who want some extra guidance and nourishment) For other time zones visit: https://www.timeanddate.com/worldclock/converter.html
VOICES FROM WOMEN
"I wanted to thank you for a beautiful circle last Saturday, it nourished my heart and made me feel seen and heard and connected with others. It really moved me. It brought out more courage in me too, which I carried into my conscious dance practice on Monday and in my week at work. Much gratitude for your work and creating the space for women to join you in it." - Ania, Hong Kong
"Thank you! Today was a wonderful and helped me dig up a nugget of gold! It's so lovely how you take care of all the sensual elements on Zoom. Of the many meetings I have on Zoom, yours is consistently the leader in how the space is created as if we are almost meeting in person." - Kate, UK
"I love these Women's Circles. They are magical and I feel down in my bones that this is something women need, to gather like this and connect." - Anonymous
WHO AM I?
Hi, I'm Corinne Konrad Calder, founder of Rebel Heart Woman, Rebel Heart Sisterhood and Women's Temple Hong Kong. I am passionate about helping women come home to themselves to activate the transformation that they long for in life.
As a Cert. Soul-based Life Coach and Feminine Embodiment Guide, I meet women exactly where they are in their journey - holding space and skillfully guiding them through this exciting and at times vulnerable process of transforming and becoming.'
Under my guidance many women have stepped into their power by living life from a place of deep intimacy with themselves, informed and guided by their inner knowing and the power of the feminine.
I work 1:1 online, and I teach workshops and events internationally. To learn more visit my online home www.rebelheartwoman.com