Location
next to Sheung Wan MTR exit A2
50 Wing Lok Street
(Room No. upon confirmation)
Sheung Wan, HKI
Hong Kong
108 Sun Salutations Yoga Challenge / Yogathon
About this event
✨ Special Yoga Challenge, 2-hr class for 108 Sun Salutations✨
Let's welcome the winter solstice, holiday season, and new year with Sun Salutations. A physical and mental challenge of stamina, persistence, and determination. It will be an active practice with benefits of group support. NOT for beginners.
Why 108? The number 108 is a sacred number in yoga tradition and philosophy. 108 beads on a mala. 108 chapters in the Rig Veda. 108 Upanishads. 108 Marma / acupuncture points on the body. 108 primary Tantras. 108 Deity names. 108 sacred sites in India. The distance between the sun and the earth is 108 times the sun's diameter.
We share dedication and devotion to the teachings of yoga with 108 rounds of Sun Salutations, majority as classical salutations with a handful of Sun A & Sun B. Our practice will conclude with cool-down postures, short meditation, and a well deserved savasana/ corpse pose to end practice.
"One must from time to time attempt things that are beyond one's capacity." — Renoir
♥ Attendance ♥
Due to small group space, exact address shared at registration confirmation.
* Join the waitlist & I will release extra spots for the event accordingly
📍 Indoor Location: Wing Lok St, Sheung Wan MTR exit A2
🧘‍♀️ Bring: small towel, water
🌟 Mats & props are available for use on-site
Reach out on IG w/ questions :)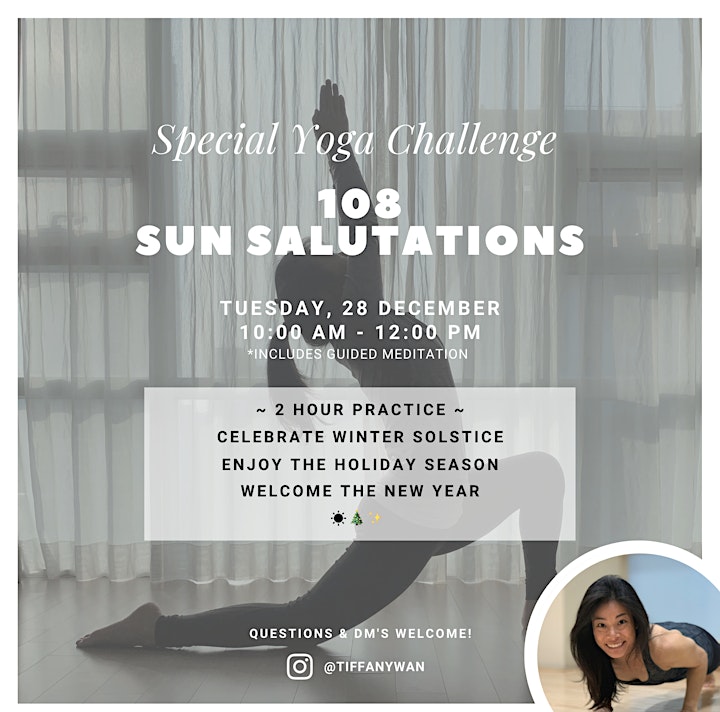 ----
TAKE CARE:
By signing up, you agree that the group nor its instructor is liable for any injuries incurred. You confirm that to have read and understood the terms and risks detailed in the Release of Liability Waiver below and at: http://www.meetup.com/YogaWithTiffany/About
RELEASE AND DECLARATION WAIVER:
As a condition of participation in Yoga with Tiffany and any ancillary event or function (collectively the 'Event'), the participant confirms as follows:
The participant is medically and physically fit to participate in the yoga activity and have not been otherwise advised by a qualified medical practitioner.
The participant understands that by participating in the Event there are risks of injury. The participant acknowledges that yoga is not a substitute for medical attention, diagnosis or treatment, and that yoga and/or specific poses are not recommended or safe for certain health conditions.
The participant is entering the Event at his/her own risk and responsibility. The participant is responsible for appropriate modifications. The participant will discontinue the activity upon pain or discomfort and seek support.
The participant hereby discharges the Event Organizer and any other individual or organization connected directly or indirectly with the Event from any responsibility in the event of injury, loss of property and/or damage incurred during or as consequence of the Event.
By signing up for Yoga with Tiffany the participant has read and fully understands and agree to the RELEASE AND DECLARATION stated above. The participant agrees to irrevocably release and waive any claims or liability that he/she has now or may have hereafter against the instructors and event organizers.