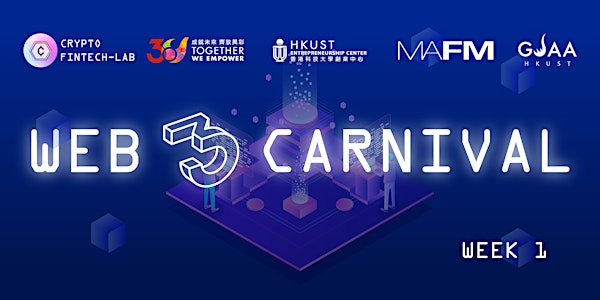 HKUST Web3 Carnival | Kickoff Ceremony (Online, Open to ALL)
Carnival kick-off featuring the top industry leaders in web3 area and introducing the most trending topic on earth -- "Web3"
About this event
Event summary:
A series of hybrid panel and firechat events from September to November 2022 (there will be on-site gatherings and parties!) showcasing experts from diverse traditional fields and Web3, metaverse, NFT, and crypto industry as part of HKUST's 30th Anniversary celebration. There will be live chat opportunities, great learning, and also multiple prizes in the form of NFT giveaways, internship / research opportunities, and even surprise gifts! Seize your opportunity to get this join us early!
#NFT #Metaverse #Crypto #ESG
#Internships #Mentorships #Entrepreneurships
Join our community to learn about the event and keep yourself posted on the latest updates!
Linkedin: https://www.linkedin.com/company/hkust-web-3-0-labs/
Discord: https://discord.gg/VxYyqW3Wqg
Twitter: @Web3_HKUST
Sponsors:
ARTA TechFin (https://www.artatechfin.com/)
New World Klub 11 (https://klub-11.com/)
BlackPine (https://bppe.com/)
DTTD (https://www.dttd.io/)
JLL (https://www.jll.com.hk/)
Co-organizer:
HKUST Entrepreneurship Centre (https://ec.hkust.edu.hk/)
HKUST Crypto-FinTech Lab (http://cryptofintechlabhk.net/)
HKUST Web 3.0 Lab
HKUST DareDevil Lab
HKUST Masters of Financial Mathematics
HKUST Graduate Students and Alumni Association (GSAA)
Hong Kong Federation of Business Students (HKFBS)
Speakers coming from:
Accenture Song, Altive, Baring Private Equity Asia, BlackPine, Baker & McKenzie, DWeb3 Capital, HashKey, HKbitEX, HKT, Gobi Partners, Gusto Collective, Kenetic Capital, Oliver Wyman, PwC, Sandbox, Token Bay Capital, Web3 Marketing Association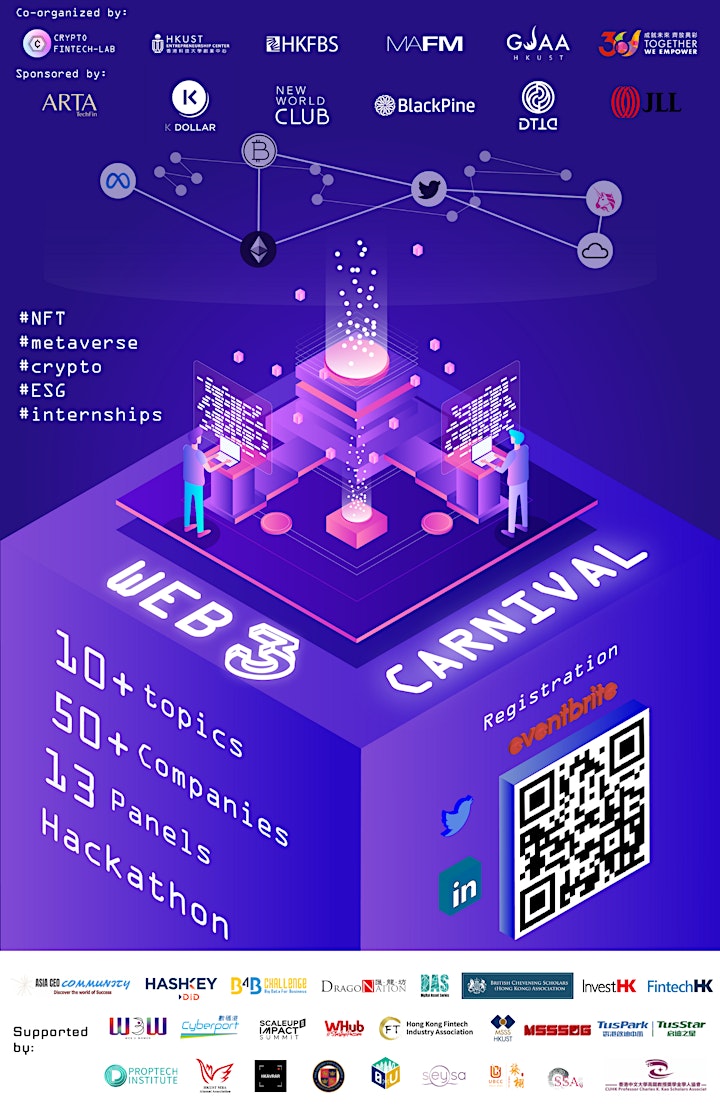 Carnival Rundown:
Week 1: Carnival kickoff & Web3 landscape (DeFi, NFT, Metaverse, GameFi)
Week 2: How are corporations tapping into Web3?
Week 3: The Future of Gaming
Week 4.1: NFT = jpg?
Week 4.2: As a student, how to break into Web3?
Week 5: Into the Metaverse
Week 6.1: Venture investments in Web3
Week 6.2: Women in Web3
Week 7.1: Sustainability and Impact in Web3
Week 7.2: How to switch careers to Web3?
Week 8.1: Cryptocurrencies, Tokens, Coins, and the Latest Global Crypto Trends
Week 8.2: Decentralization explained and DAO vs traditional organization
Week 8.3: Risks & Opportunities in Web3
Week 9: The World in 2030 & Carnival Closing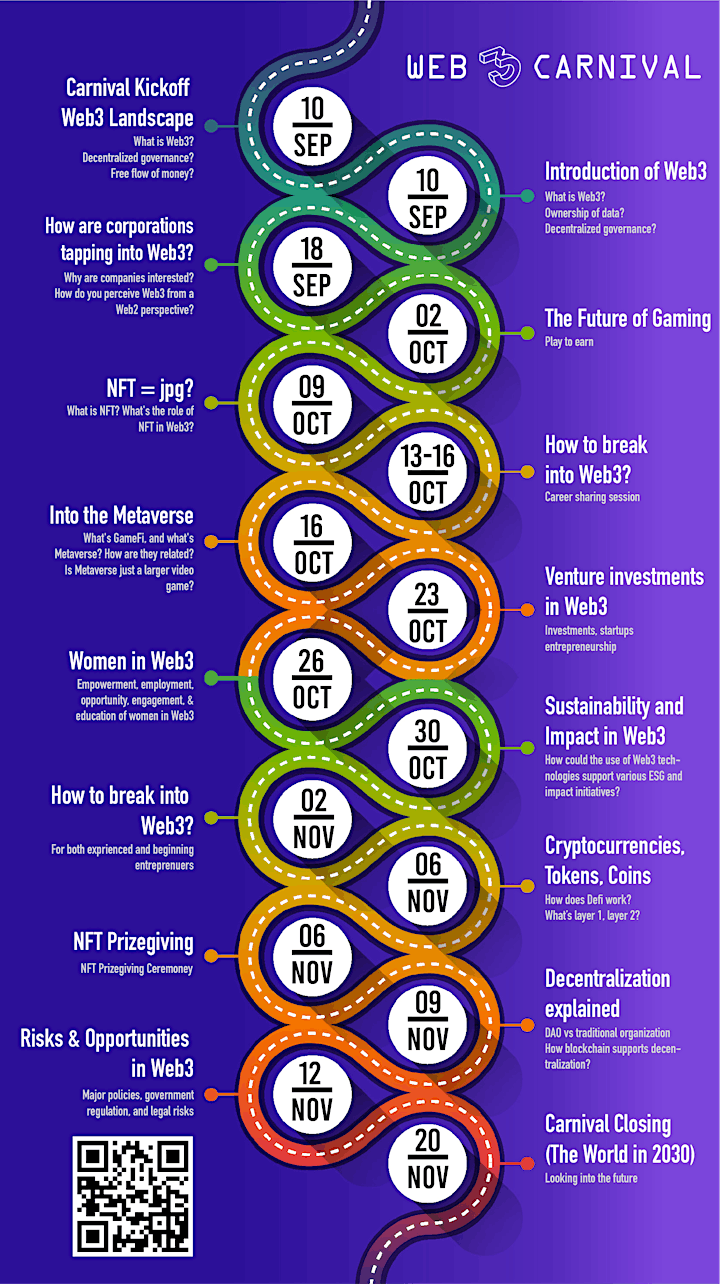 Week 1: Carnival Kickoff
What is Web 3 Carnival and what are some exciting activities planned for you?
2:00 p.m. | Start of the opening ceremony
2:05 p.m. | Introduction on HKUST 30th Anniversary and Web3 Carnival by HKUST Crypto-FinTech Lab Director, Prof. Kani Chen
2:15 p.m. | Speech by Vice President for Institutional Advancement, Prof. Wang Yang on Web3 and HKUST
2:45 p.m. | Speech by HKUST Entrepreneurship Center, Head (Entrepreneurship Programs), Donny Siu on HKUST entrepreneurship development
3:00 p.m. | Speech by Sponsors & Supporting Parties
4:00 p.m. | Introduction of event rundown
Zoom dial-in: https://hkust.zoom.us/j/96803813577?pwd=WnRsd1lvSnZHbmdBRDhZeDNHSHUxQT09
Award:
Win exclusive university-themed NFTs by signing up early and participating in at least 3 sessions.
NFT Previews: