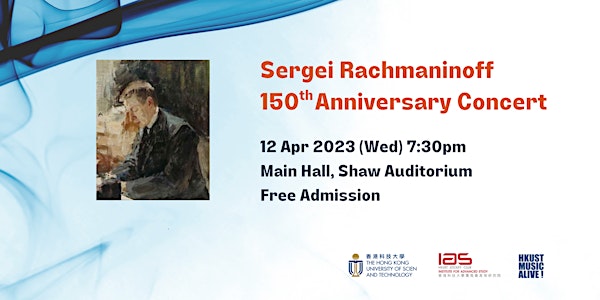 HKUST Music Alive! Sergei Rachmaninoff 150th Anniversary Concert (Apr 12)
HKUST Music Alive! Sergei Rachmaninoff 150th Anniversary Concert (12 Apr, 2023)
By HKUST Jockey Club Institute for Advanced Study
Date and time
Wednesday, April 12 · 7:30 - 9pm HKT
Location
Main Hall, Shaw Auditorium The Hong Kong University of Science and Technology Clear Water Bay, KOW Hong Kong
About this event
For further enquiries, please send email to musicatshaw@ust.hk.
Description
This year is the 150th birthday of the 20th century Russian/American composer Sergei Rachmaninoff. Arguably the last great romantic composer and the greatest pianist of the 20th century, Rachmaninoff's music is some of the most beloved and tuneful in the repertoire deeply felt for its lyrical and longing melodies. This program is a celebration of his chamber works, both for voice and for instruments, all of which prominently feature the virtuosity of the piano.
Program
Trio élégiaque No. 1 in G minor
Romances Op. 14 no. 1, 9 and Op. 26 no. 6, 13
Variations on a Theme of Chopin Op. 22
Sonata in G minor for Cello and Piano, Op. 19
Performers
Richard Bamping, cello
Anders Hui, violin
Amy Sze, piano
Natalia Tokar, piano
Isaac Droscha, voice
Please click here for details.
Registration
This event is for person with the following affiliation at HKUST:
Friend of HKUST (Note: You can sign up as "Friend of HKUST" when registering for the event.)
HKUST faculty and staff
HKUST student
HKUST alumni
Family member of HKUST faculty and staff (with family or resident card)
Free admission. Tickets will be allocated on a first come, first served basis.
This event is for ages 6 and above.
An individual registrant can register for up to four (4) guests including the Registrant himself/herself.
Please input the name, email address and cellphone of EACH GUEST when doing the registration.
Registrant who successfully made the booking will receive a confirmation email with a PDF attachment of printable tickets and QR codes for all the guests he/she registered.
Admission Details
Registrants are required to show the QR code on the ticket for check-in at the reception on the day. Each QR code is unique and cannot be transferred to other guests.
Check-in will start at 6:30 pm on the day.
Persons with symptoms or illness and people who have been in contact with COVID-19 patients within the last 14 days should not attend the performance.
The HKUST reserves the right to make the final decision regarding your admission.
No hourly parking or free parking will be provided to registrants. Please take public transportation to HKUST.
House Rules
No eating and drinking is allowed during the performance.
No unauthorized photography, recording or filming is allowed.
No mobile phone and other electronic devices should be used during the performance.
Please keep noise to a minimum during the performance.